A Parent's Guide to TikTok's Parental Controls
TikTok offers a menu of restrictions and parental controls that parents can use to curate their child's TikTok experience.
by Emily Kelleher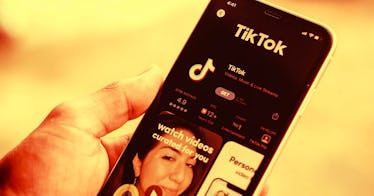 With about
2 billion users and counting, TikTok's reach is mind-boggling. The short-form video app has spawned global trends ranging from dance challenges to sandwich recipes, pranks, parenting tips, and political activism. That reach has likely extended into your home and you're not alone. Parents may be understandably hesitant to let kids have unfettered access to TikTok. The app offers kids an extensive library of inappropriate music, adult dance routines, direct access to billions of strangers, a uniquely addicting format, and the false promise that making videos is a one-way ticket to fame and fortune. Christine Elgersma, Senior Editor in Social Media and Learning Resources at Common Sense Media, says there are a few main concerns associated with TikTok. For starters, "darker stuff and more mature stuff that kids can find pretty easily." Then there's contact with strangers, mean comments, and the potential that kids will get involved with TikTok for the wrong reasons — in hopes of getting famous. But it's not all bad. "There's a lot of creativity and cool stuff on TikTok," Elgersma says. "And I think helping kids seek that out can actually be really fun and it can inspire a lot of creativity." The key is setting boundaries that will promote safer, more age-appropriate interactions with the app. Luckily, TikTok offers a menu of restrictions and parental controls that parents can use to curate their child's TikTok experience. But these controls provide a middle ground for parents who fall somewhere between raising their kids off the grid and letting them scroll as much as they want. Here are some key TikTok parental controls to consider.
Age Limits
TikTok automatically adjusts settings based on what birthday users enter when creating an account. Of course, it's up to users to enter an accurate birthday, and like other social media sites, TikTok largely takes their word for it. (Although TikTok's Global Minor Safety Policy Lead Tracy Elizabeth says that TikTok has "policies and moderators who are trained to predict and report when we suspect that a user is under age.") Under 13: In this paired back version of the app, rolled out after the Feder Trade Commission fined TikTok for violating child privacy laws, a user's data isn't collected. Users under 13 can watch videos but can't search for or comment on them, and can't post their own videos or have followers.13-15: users can create and share videos but their accounts are private by default, so only friends can see and comment on videos. Nobody can use the duet or stitch function to make videos that include their videos. Users can't send or receive direct messages. 16-17: Users can now have public accounts, live stream, and send direct messages. They can't buy, send, or receive digital gifts.
Privacy Settings
One of the most immediate concerns related to kids and social media is privacy, as most parents will be eager to limit their kid's contact with strangers on the internet. On TikTok, much like other platforms, making a private account is the best way to do that. But unlike some other platforms, kids may be resistant to the idea of a private account, since for many, their motivation for sharing videos is racking up followers and getting famous. But,
"Whenever there's a public account, there's the possibility of contact with strangers," says Elgersma.Videos on private accounts can only be seen by those who the creator has approved as a follower.Parents should note that if you start out with a public account and later make it a private account, it retains any followers that followed the account when it was public, who didn't need to be approved. To enable a private account: go to profile, (the person image in the bottom right corner) hit the three dots in the upper right corner that take you to settings, select "Privacy" select "privacy account"Under the privacy settings, there are a number of additional restriction options. To limit who can comment on your child's videos, under privacy, select "Who can comment on your videos," and then choose either "friends," which limits comments to people your child follows back or "only me" which disables comments from other users. You also control whether videos are downloadable, which allows users to save videos to their phone, by selecting "Allow your videos to be downloaded" and then choosing "On" or "off." You can also control who can duet, and stitch with your child's videos. Dueting is a feature where a user makes a TikTok with another TikTok playing on half the screen. To limit this function, under privacy, select "who can duet with your videos" and then choose "friends," or "only me." Stitching is a feature where a TikTok plays first and then a user adds their content. To limit this function, select "Who can stitch with your videos" and then "friends." To turn it off, select "only me."
Comment Controls
Comment controls allow users to restrict who can leave comments on their videos, which is a good option for parents worried about cyber bullying or contact with strangers. To enable comment controls: profile, settings, privacy, who can comment on your videos, choose from everyone, friends, or noone. To filter out more specific comments, go to settings, select privacy, then select comment filters. The setting "filter spam and offensive comments" is turned on automatically but you can filter certain keywords by selecting "filter keywords" and then typing in certain words in "add keywords." Short of adding filters for every insults you can dream up, this tool doesn't seem to be geared towards preventing abuse, and instead can be used as a mitigation tool. If a bad comment is consistently left, you can turn on a filter for that specific thing. You can also select "filter all comments" which will mean no comments will appear to the public without the user's approval.
Direct Messaging
Messaging settings allow you to receive direct messages from anyone, no one, or friends, which are defined as TikTok users who not only follow a user but who they follow back. The direct messaging function allows users to send TikToks and text, but not images or video, and only users over 16 can send direct messages.
To restrict direct messages: profile, settings, privacy, select "who can send you direct messages," select either "friends" or "no one"
Restricted Mode
Restricted mode is designed to filter out more mature content, though it's not entirely clear exactly what content is removed, or how effectively. TikTok's Tracy Elizabeth says that videos seen on restricted mode are moderated by both an "automated detection system" and human moderators who are trained to identify certain inappropriate themes. Elgersma says that in her own experience, the filter does a good job, but isn't perfect. While restricted mode applies a filter to videos, children still have access to a huge library of explicit music when they're making their own videos. Elgersma says she's seen some content in restricted mode that she wouldn't want her 11-year-old daughter to see, even when she's 13, but acknowledges that how well the filter works is going to vary by family. "It's so personal, what a parent is was okay with their kids seeing and not seeing or hearing," Elgersma says. On the plus side, this mode requires a passcode to be changed, making it harder for kids to turn off as soon as you walk away. To turn on restricted mode: go to profile, hit the three dots in the upper right corner, select digital wellbeing, select restricted mode, select turn restricted mode on
If videos do come up that feel inappropriate, you can hold down on the screen and select "not interested" to tell the algorithm that you don't want to see similar videos in the future. You can also select "more" and then choose to block all videos from that user, or all videos with that sound. So if a video comes up with an inappropriate song, you can block all future videos with that song playing from appearing.
Screen Time Limits
Much like the time limit settings found on an iPhone or iPad, TikTok has its own time limits. Users can choose to limit their daily allotment between 40 minutes and two hours. After they've spent that much time on the app in a given day, a video will pop-up prompting them to spend some time off the app. In order to dismiss the message and continue using the app, users will have to enter a passcode. To turn on screen time limits: Go to profile, settings, digital well being, screen time management, time limit, choose between 40-120 minutes, turn on
Family Pairing
Family pairing allows parents to link their account with their child's and control settings remotely. This way parents can enable things like restricted mode, screen time limits, and disable direct messages right from their own phone. For parents who think their kids will mess with their settings, this is a good option, since they can't change them without parental approval. Note that family pairing is limited to controlling these settings and doesn't allow parents to see the videos kids watch, messages or comments they receive or send, or the accounts they interacted with.
Reporting a Video or User
If a disturbing video comes up on your child's feed or someone leaves an inappropriate comment, there's always the option to report it to TikTok. Like similar systems in other forms of social media, how effective this method is varies. "They're fairly responsive, but in an environment where you have so many users, I think it's a little bit like whack a mole," Elgersma says. "AI cannot cover enough ground and there's not enough moderators to go around. So I'm sure a lot gets through." To report a user: go to their profile, select the three dots in the top right corner, select report, select why you are reporting them. To report a comment: select the comment, then select report, follow instructions to detail why you're reporting the comment
Restrict Photosensitive Videos
For users that have a sensitivity to flashing lights, TikTok provides a setting that will block any videos like this that could potentially trigger photosensitive seizures. To restrict photosensitive videos: Profile, settings, accessibility, remove photosensitive videos
The Takeaway
It's worth noting that many of the settings that increase safety and protect kids' privacy also prevent them from sharing videos and gaining followers, which for many kids may be the main point of using the app. The under 13 version of the app, for example, is what Elizabeth calls a "passive experience. There's no opportunity for the user to engage in any other way." Of course, these limits are just one tool for keeping kids safe, and can't replace ongoing conversations and education around online safety and digital citizenship. Elgersma emphasizes the importance of not only talking to your kids regularly about what they're doing online, but actually showing interest, since that's what's most likely to lead to an engaging and honest conversation. She also advises parents to create boundaries and expectations around screen time as well as who a kid can contact over the internet, for example, having designated screen time and screen free time throughout the day.
This article was originally published on