A Grammy-Nominated Tenor On Raising An Autistic Child While Traveling 9 Months A Year
Figaro + Flapjacks = Better Kid's Meals
by Michael Howard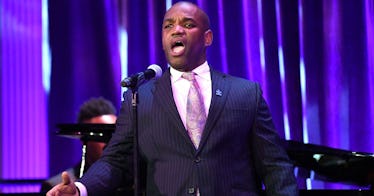 Getty
Routine Behavior is a series where we talk to guys who successfully juggle businesses, careers, and parenting about the routines that keep them on track. Up next is Lawrence Brownlee, an opera singer whose tenor has merited Grammy nominations and the "Male Singer of the Year" International Opera Award.
Between performances abroad with famed orchestras in front of presidents, Brownlee makes the most of his home life in Georgia with his wife and kids, a 3-year-old daughter and 4-year-old son, who is autistic. That makes the constant travel, which Brownlee's career demands, even more challenging than normal, but he handles it like he handles the high "F" in "Credeasi Misera" — with aplomb.
How many times a week do you get home for dinner and do you ever cook?
When I'm home, I do cook. My wife is training for a marathon right now, so a lot of times she'll get up at 6 o'clock in the morning to run. So, when the kids get up, I'll go downstairs and cook them breakfast. A lot of times out on the road, you eat out constantly, so when I get the chance to cook at home I do that almost every meal.
Does your wife stay at home or work?
My wife is a stay-at-home mom. My son's autistic, so her working right now is probably not the most conducive to our family life. With me being gone, she just needs to be the constant thing that's happening at the house with the kid.
Do you look forward to travel or do you dread it?
To be honest, both. More of my life, I've been a traveller than not. I love traveling and seeing new places. I've seen 34 countries so far, and I'm going to see 4 more in a couple of weeks.
"I need to go, see, and do because I feel this gives me life and energy."
I travel about 9 months a year. I talk to my agent to schedule as much time as I can at home without hurting my career. But if you're in this business, you have to be out and about so people will see you.
I do hate leaving my wife and kids. I've missed so many milestones, especially my son with his special needs. I'll come home and I'm amazed at some of the things he can do, but I see the struggles he had as well. I tell my wife I wish I could sing in all of these important theaters and come home at night — that would be ideal. If somebody from Star Trek would really invent that teleporter where you could do what you do and still be home at night, that would be fantastic, but that's not reality.
Being at home feels relaxing. But I'm a guy who starts getting antsy after I'm at home for too long. I need to go, see, and do because I feel this gives me life and energy
What is the one piece of kid related gear that you can't live without?
They have these things that are almost like baby vests that allow kids to pretty much be on their own in the pool — of course, you stay fairly close to them. With my son being autistic and having his issues, that floaty device has been one of the best purchases we've made in the long time.
If I had to pick something used every day, probably our DVD player, because they love videos. My daughter loves Frozen and wants to see it every day. My son loves to watch this video called Lord Of The Beans every day. That really helps us. It's not that the DVD player babysits the kids, but it's something they enjoy.
What is your go-to when you need work-related inspiration?
Part of it is my family. I have a very lunchbox/hardhat mentality when it comes to work. I never want my work to be so big that it gives me anxiety or is something I won't enjoy. I enjoy it now — being an artist and seeing my colleagues who I admire so much — I get inspired by that.
I like the fact of being just a regular guy. That's my mantra. That's who I am. Even though I get a chance to travel around to the most important theaters and orchestras in the world — I love that, but I don't live in that fact. It does not define me so much. I love the fact that I can just be a regular guy with the inspiration, privilege, and joy of performing at these great places without taking it too seriously.
"If somebody from Star Trek would really invent that teleporter where you could do what you do and still be home at night, that would be fantastic."
How was your attendance record at your kids events games, milestone moment?
Not great. Not. Great. My daughter is going to start gymnastics soon, so I think my attendance will be more desired when she starts to get into doing competitions.
One thing that helps: If it's a church or family thing, my wife'll call me while she's at that so I get a chance to see the people. It's like I'm not there, definitely, but I can still get a chance to experience it in some way on FaceTime.
What is your son or your daughter's favorite book at the moment?
My son likes this book called Bubbles, Bubbles — part of the Sesame Street series. We've read that to him for a while. We'll turn the page, and he likes to quote it out loud.
I think my daughter's favorite now is Dora The Explorer. There's a new thing called Shimmer And Shine that she's crazy about. Sofia The First. Bubble Puppies. My wife is good at finding those books on clearance. Our library's always growing, so it changes all the time
This article was originally published on