9 Ways to Foster Your Toddler's Independence Through Play
When kids play independently, they build skills like creativity, problem-solving, and self-confidence.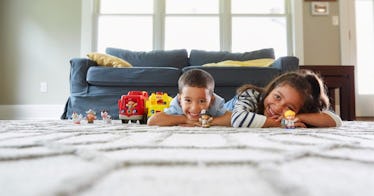 This story is Sponsored Advertising in partnership with Fisher-Price®.
Teaching a toddler to be independent is one of the best things you can do for them. When kids play independently, they build skills like creativity, problem-solving, and self-confidence. Parents obviously want their kids to develop those traits, and when kids can play by themselves it frees parents to take care of other tasks while supervising them. Talk about a win-win situation.
Here are nine things parents can do to encourage their kids to play on their own and help build life skills that will serve them well in the future.
Make sure kids have their own space.
You don't want to completely shut your kids out, of course—safety, as always, should be first—but where they're playing should feel like their own space even though they aren't alone. As an example, consider laying down a play mat as a way to define an independent play space within a room while you're still in it. The Fisher-Price® Extra Big Adventures™ Play Mat is big enough for toddlers and their toys, and it folds up easily when playtime is over.
Remove the screens.
Screen time has a time and a place, but it's not really part of fostering effective independent play practices. As you go about setting up your child's play space, make sure tablets, TVs, and other electronic distractions are kept out of reach, out of sight, and (hopefully) out of mind.
Supply lots of different toys.
Stock the space with a wide variety of toys that offer kids a multitude of different ways to play, from the mechanics of the Fisher-Price® Little People® Launch & Loop Raceway to the narrative possibilities of the Fisher-Price® Little People® Load Up 'n Learn Construction Site Playset. Doing so will give them the flexibility to explore, combine, and otherwise be more creative with their toys than they would be with a more uniform selection of playthings.
Back away from playtime slowly.
If you suddenly take a step back after being an active, constant presence during playtime it can be a jarring change that doesn't exactly put kids in the mood to explore. You should join in the play at first before backing away for a few minutes, encouraging your kid to play by themselves while you watch. Do so repeatedly, and your kid will get used to playing without your help even while you remain in the room.
Schedule playtime.
If there is already a time of day your little one is used to playing, then incorporate independent play into that timeslot. If there isn't, then set one up, as creating a routine can ensure that kids don't feel ambushed and eventually feel comfortable playing by themselves.
Arrange toys thoughtfully.
Parents can arrange toys in a play space so that kids are nudged in a particularly fruitful direction when they start playing. For example: surrounding a child-sized table with a bunch of stuffed animals (like the Fisher-Price® Laugh & Learn® Smart Stages® Puppy and Fisher-Price® Laugh & Learn® Smart Stages® Sis) might encourage the narrative play of a tea party.
Keep the toys fresh.
You'll probably notice your kid getting bored with some toys as time goes on, so it's a good idea to swap them out for ones they haven't played with in a while. It's also important to ensure that the toys your kid has to play with are appropriate for their age and ability level. Fisher-Price makes toys for kids of all ages, and their boxes are clearly labeled with the specific age that toy was designed for. And you can opt for their Smart Stages toys, which adapt as kids grow up.
Resist the urge to make your presence felt.
Your kid isn't the only one who will need to adjust. Parents love playtime too, and fostering independent play can feel like giving up the most joyful part of your day. But a nosy parent can interfere with all of the good that independent play can do, taking their kid off track from the imaginative world they're creating and exploring. Make sure to manage your own transition as well as you do theirs and don't worry: not all playtime has to be independent!
Don't be afraid of making a mess.
A little mess can go a long way. Kids love sensory explorations, and they can be a great way to jump-start their independent play journey. Warm up with "clean messes" like shaving cream in the bath or scooping rice or water in a large container with measuring cups. Adding simple toys like Little People figures allows for even more creativity. Plus, feeling these different textures is a sensory experience that little ones crave, one that can relax them and calm their senses.