5 Questions to Consider When Choosing Kid's Books About People of Color
by Lindsay Pérez Huber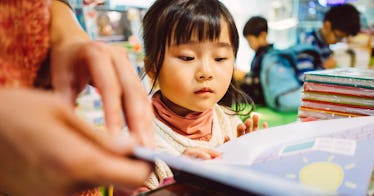 Ten years ago, I sat down with my then 8-year-old daughter to read a book before bedtime. The book was sort of a modern-day "boy who cried wolf" story, only it was about a little girl named Lucy who had a bad habit of telling lies.
In the story, Lucy borrowed her friend Paul's bike and crashed it. Lucy lied to Paul, telling him "a bandit" jumped in her path and caused the crash. I saw the image and stopped reading. I was stunned. The image on the page was the racist stereotype of the "Mexican bandit" wearing a serape, sombrero and sandals.
By training, I am a critical race theorist in education who understands that racism is ingrained into the fabric of our society in general, and in educational institutions in particular. One area of my research is about how people of color experience racial microaggressions, which are often subtle but significant attacks — verbal or nonverbal. They can take on many forms, such as remarks about one's identity, and occur because of institutionalized racism.
This article is republished from The Conversation under a Creative Commons license. Read the original article, by Lindsay Pérez Huber an Associate Professor in the College of Education at California State University, Long Beach.
The New York TimeThe Apartheid of Children's Literature
The problem of scarcity
Cooperative Children's Book Center
Latinx kids represent about 1 in 4 school childrenLatinx characters were about 6%concerns about anti-Black racism in children's booksdevelop a rubric
1. What roles do the characters of color play?
2. Does the book contain racial stereotypes?
dominant perspectives of communities of colorhistorically targeted
3. Are characters represented in culturally authentic ways?
4. Do the books include the bigger picture?
We Are Water Protectors,They Called Us EnemyJapanese internment camp
5. Who has power and agency in the story?
Alma and How She Got Her Namecreates a social distanceJairo Buitrago'sTwo White Rabbits