6 Key Takeaways From The Largest Gathering Of Digital Dads
It's all about 'pop' culture.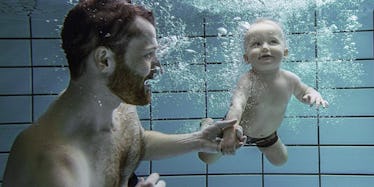 What happens when you pack 425 media-savvy, dedicated dads into a La Jolla hotel — ply them with food, drinks (so many drinks), and stylish haircuts — and then set them loose to figure out how their role as prominent father voice on social media is charting the conversation about fatherhood? You get the sixth edition of the Dad 2.0 Summit.
RELATED: The Dad 2.0 Summit Is Where Father Bloggers, Marketers, And Media Get Big Ideas
Founders Doug French and John Pacini have seen their annual gathering of the daddy-Os grow by leaps and bounds over the past 6 years, with longtime title sponsor Dove Men+Care allowing all of these father figures to gather together and speak their minds. This year saw its biggest event yet: more first-timers, more discussion about how social media creates a social impact, and some straight talk about real strength from keynoters like Ghana refugee Ebenezer Mercer and NFL great Charles "Peanut" Tillman.
So what was the theme of Dad 2.017? "I wanted the programming to kind of speak for itself here," says French. "I don't want to proselytize. What I want to do is encourage people to recognize the importance of talking about a lot of important things." Those things range from recognizing and confronting implicit bias, to the emergence of gay dads in America, to the wisdom (or foolishness) of using our social media platforms for political advocacy. Here is the "too long, didn't go" recap of those 3 days:
MORE: The Best Moments From The Dads +SocialGood Summit
The Real Face of Immigration
We told Ebenezer Mercer's story in December as he was getting set to celebrate the holidays with his family in New Jersey, but it pales in comparison to hearing his in-person keynote speech All parents have problems, but – it's safe to generalize here – most never have to stowaway in a cargo crate (twice) and subsist for 2 weeks (twice) on cookies and a bottle of water just to escape certain death in our home countries. "Anytime I see my children, I remember I'm happy here," Mercer said. "Because (through) all my suffering, I had my children."
He's A Tough Nut To Crack
Dove Men+Care keynote speaker and former NFL defensive back Charles "Peanut" Tillman, winner of the 2013 Walter Payton Man of the Year Award and all-around good guy, dropped some wisdom about strength and vulnerability. "Mental toughness is being at your best on command," he said. You would think he's talking about playing in the Super Bowl, but mostly it's about being a rock for his family when his second daughter needed a heart transplant.
We, The Caretakers
Last year, the folks from Promundo produced a comprehensive report on the state of fatherhood in America (titled, appropriately, the State of America's Fathers) and you know they weren't in San Diego just to gawk at the sea lions in La Jolla Cove. They had a lot on their mind and a lot to share, and they found their audience at the Dad 2.0 Summit. The key takeaways from the panel (which, full disclosure, included Fatherly's Managing Editor):
The quest for work-life balance remains elusive for more than half of working dads.
Fatherhood exists in many forms. Dads who show up aren't any less effective in kids' lives than the "superdad" Instagrammers.
Men are caretakers, so fight professional stereotypes. Just as girls can be encouraged to be doctors and attorneys, boys can be encouraged to become nurses and teachers.
As blogger and author Doyin Richards said in his short-form talk, "We need good men on the side of women and girls to ensure gender equality."
ALSO: How These New Fathers Formed a Thriving Community for Stay at Home Dads
Amazing Spider-Man's Director On Being A Super Bedtime Storyteller
Marc Webb, director of the Amazing Spider-Man movies and the upcoming Gifted, is not a dad. But he did share the secret formula he uses when it's his turn to tell his nieces a bedtime story. "I think the first thing you've got to do is remember the reversal," he said. "You've got to have a surprise. Surprise is a fundamental part of any story. A guy walks into a bar, orders a drink, and a guy throws a drink in his face. You want to know what happens next. That's something that hooks them every time, if you can surprise them. It's a fundamental element of drama, and it always works." Feel free to replace "bar" with "cafeteria."
Snowflakes and Trump Trolls: Who You Got?
Dad 2.0 also had to address the elephant in the breakout room: brutal political discourse online. The idea was to put a conservative dad, a progressive dad, a dad in the middle, and a social media business owner in a room and let them duke it out about whether it's a good idea to take a public political position.
Cut to the chase: Trolls are real, and sometimes they show up on your lawn. But know what your audience expects and create content accordingly. Maybe your organization's million Facebook followers come to your page as a respite — not as another pitstop in the presidential debate. And those who do engage need to remember that name-calling, finger-pointing, ridicule, and vitriol are not effective conversation starters, kids.
Weekend At McCarthy's
Closing keynote speaker Andrew McCarthy, actor, director, father, spoke about the moments in his life when he felt most "himself." Walking alone across Spain. Climbing Kilimanjaro. Holding his dying father's hand. Or just when he gets to be the "backstop" for his kid's life decisions. "Recognize those moments," he said, "I realize, 'Ah, ha. There I am.'"
And a lot of the weekend was spent as a group hang for like-minded guys. These are all fathers who understand the irony of taking a weekend off from the family to hanging with a bunch of other men doing the same thing. But it's also a weekend to connect around how to move the parenting needle forward, in social, political, and professional ways. And sometimes you need to tell the kids those important discussions have to happen poolside.
To attend next's year's Dad 2.0 Summit, head here for more info.