How to Listen to the Family-Friendly Playlist Ziggy Marley Cooked Up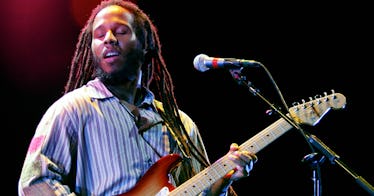 Getty
Both by chance and by choice, Ziggy Marley has led a very musical life. As the eldest son of Bob Marley he obviously grew up around reggae, and as soon as he was old enough he went into the family business. Ziggy and some of his siblings formed a family band called the Melody Makers when he was just 11 and continued the project for decades.
But music isn't Marley's only area of knowledge. As the father of seven kids, he also knows a thing or two about parenting, so a new album of children's songs is something of a combination of his passions. More Family Time is definitely worth checking out if you and your kids like good, happy music. The same can be said of the kid-friendly songs that inspired him, which he helpfully arranged into a playlist.
Marley played and discussed these songs that influenced him as part of a takeover of SiriusXM channel Kids Place Live. He included three of his own songs, collaborations with Ben Harper, Angélique Kidjo, and Sheryl Crow. The rest of the playlist is a diverse mix, from Louie Armstrong to the Beatles to the Four Tops to Dwayne Johnson (singing on the Moana soundtrack).
Chances are you've heard most of these songs before, but your kids might not have.
Ziggy Marley's Kids Place Live takeover is available to stream on the SiriusXM website.
This article was originally published on