Influencer Parents Just "Rehomed" Their Adopted Son. WTF?
A guide to the controversy surrounding the Stauffers and their (former) son Huxley.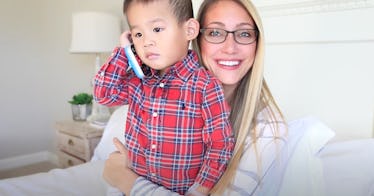 Myka Stauffer / youtube.com
Myka Stauffer's YouTube channel boasts over 700,000 subscribers. Her videos cover pretty typical mom influencer subjects — home organization, homeschooling, and daily routines. Along with her four biological kids, Stauffer's adopted son Huxley was featured prominently on her channel, as was the process of adopting him from China.
So it was a shock when Stauffer and her husband James revealed in a video posted on Tuesday that they had "rehomed" Huxley, a term that unfortunately sounds like what you do to a pet when one of your kids develops allergies.
"After multiple assessments, after multiple evaluations, numerous medical professionals have felt that he needed a different fit and that his medical needs — he needed more," Myka said, crying. The couple also said that they hadn't updated their followers on the situation out of fear that publicity could jeopardize the legal situation or Huxley's chance to be placed at "his now new forever family." The couple said the experience had been painful — "Do I feel like a failure as a mom? 500 percent." — and they asked their followers to respect their privacy while they grieved.
The problem with that logic is that these people are public figures who use their children to create profit for themselves, an ethically dubious practice that loses them the benefit of the doubt. Pleas for privacy seem like self-serving attempts to insulate themselves from criticism from the followers they claim to appreciate who make their lifestyle possible.
There's also not a ton of evidence that this situation happened as they describe it. If they were truly invested in caring for Huxley and truly unable to do so, then it seems that they would have made more sacrifices to try to help him and keep him as part of their family. That's not to say that it's impossible that they're being sincere; it's to say that the alternate theory of the case seems more likely.
Comments from writer Sophie Ross on Twitter were typical of the backlash against the Stauffers, who are repped by a talent management firm and have produced content for Dollar Tree, TJ Maxx, Danimals, and other well-known companies.
Screenshots from Stauffer's previous Huxley videos also undercut her narrative, both that she loved and did her best for Huxley. It looks awfully like the Stauffers adopted a kid from China for clout, found out how much money and effort it was going to be to take care of him, and gave him up after just a couple of years. It's also quite difficult to imagine them doing the same thing to their biological children, who don't have Huxley's medical challenges.
The weird irony of this situation is that Huxley is better off not in the care of people who would monetize an adoption and then give him up when it became hard to care for him. Ross says that she's learned that Huxley is being adopted by a better family, so hopefully this works out for him even if he never receives the money he made for his former parents.
As for the Stauffers, they're getting pretty well savaged online, and it remains to be seen if their brand can survive this scandal. The problem with being an influencer whose brand can be boiled down to "everyday mom" is that there are plenty of everyday moms out there, and they can make YouTube videos too.