YouTube Influencers Are Selling Replica Dolls of Their Newborn Baby for Over $300
by Catherine Santino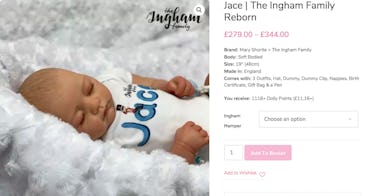 MaryShortle.com
Influencers have officially taken things too far. U.K. YouTubers Chris and Sarah Ingham, known on the platform as The Ingham Family, recently announced that they're selling a lifelike replica of their newborn baby boy. The parents designed the doll to be modeled after their son Jace at two weeks old, and is retailing for about $340 U.S. dollars. Needless to say, people are fully, and rightfully, creeped out.
The replica is being sold by manufacturer Mary Shortle and is described as a ick up a "soft bodied", 19 inch version of Jace. "The realistically adorable features allow you to have your own little Jace!" the description reads. "His realistic soft-touch skin and hair are beautifully hand-painted just for you by an artist in the Mary Shortle Nursery." Even creepier? Customers will have the opportunity to bring their newly purchased Baby Jace to "one of the specially organised baby Jace Tea parties to be announced," where they can meet the Ingham family. Yikes.
It's certainly not unheard of for influencers to make a buck off of their families. Birth vlogs with salacious titles like "Emotional Live Birth!" are often gain hundreds of thousands of views, which equals money in pockets. Chris and Sarah Ingham have bene profiting off of their family of six since 2016, posting clickbait-y titles and partnering with brands on sponsored videos. But their latest venture totally destroys any boundary that still existed between follower and influencer. It's also just plain weird. The thought of an adult purchasing a replica of a stranger's newborn is not only nauseating, but highly questionable.
*Shivers*
This article was originally published on