Watch a Young Kid Become Spider-Man With a Little Help From His Dad
To literally help your child live out a fantasy is peak #DadGoals.
by Raz Robinson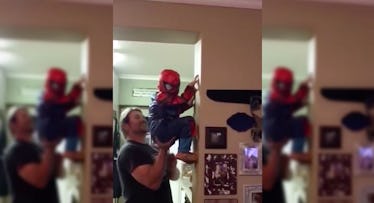 REDDIT u/KathiItaliano
Since the tales of Spider-Man first hit the page in 1962, kids all over the world have fantasized about climbing walls and swinging from building to building. A recent video posted on Reddit shows one dad and his young son making this fantasy a reality, well, kind of.
Though it's not totally clear who the original owner of the video is, Reddit user u/KathiItaliano posted it early on Monday and the post has been upvoted more than 11,000 times so far. The video shows dear old dad helping his son zip around the living room much like Peter Parker galavanting about New York City.
While this wannabe superhero obviously lacks Spider-Man's web-slinging and wall-climbing abilities, his dad helps his son pull off a pretty convincing Spidey imitation by carrying him as he soars around the room and up and down their living room walls. It certainly doesn't hurt that the kid is wearing a pretty sweet Spider-Man costume and he has clearly been practicing his epic superhero poses, which he absolutely nails every time he lands on the wall.
This adorable video was unsurprisingly a hit on Reddit, where it has received more than 11,000 upvotes in the nine hours since it was first posted. It has also received nearly 300 comments, including more than a few people suggesting that this kid be considered a future candidate to take over the role of Spider-Man when Tom Holland decides to hang up his spidey-suit. At the very least, he looks like he would make an excellent stuntman.
This article was originally published on