You Have to See This Seal Singing "Crazy"
Justin Bieber posted a video of a seal singing everyone's favorite song from 2006. Everyone lost it right away.
by Isabella Bridie DeLeo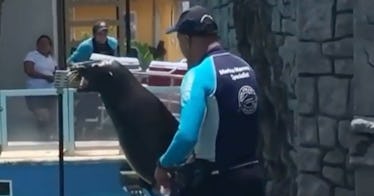 There's something about the opening line of Gnarls Barkley's 2006 smash hit "Crazy" that still seems prescient in 2020, particularly "I remember when / I remember, I remember when I lost my mind." Who knew that we needed to hear the catchy neo-soul song today, except, apparently, sung via an unlikely karaoke star: a seal? Justin Bieber knew! He just shared a video of a star-powered, shimmering seal that appears to be dancing and singing into a microphone, seemingly in tune with the rhythm of the song.
Bieber captioned his viral video with a simple pun, "Seal-o Green." The clip has since racked up over 4 million views at the time of this article's posting and has brought back some much-deserved attention onto the hit, which catapulted singer CeeLo Green to stardom and helped him land a gig as one of The Voice's original judges. The video is brief, only about 30 seconds long, but inexplicably joyful.
When was the video taken? Before COVID-19? After? We don't know. The video has erased our ability to really worry about it.
Bieber posted the video while on vacation with his wife, Hailey Rhode Bieber. The power couple have been spotted traveling, recently road tripping in Utah, although the location of the aquarium is unclear. With this delightful video, the Bieber family has certainly won our seal of approval!