John Cena Is Writing a Series of Children's Books
The WWE star is looking to teach kids a thing or two about perseverance.
by Raz Robinson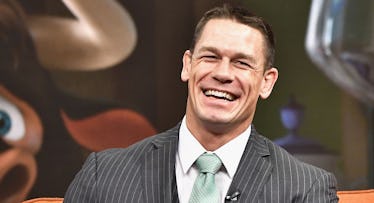 GETTY
Sixteen-time WWE World champion, movie star, and man who you may or may not be able to see, John Cena announced today that he'll be elbow dropping his way into the children's book field. The 40-year-old wrestler's first title, Elbow Grease, will hit shelves in October and hit on the themes of dedication and adversity. It's supposed to be part of a larger series that, undoubtedly, will contain a good dose of hustle, loyalty, and respect.
According to Mashable, the book will follow Elbow Grease, a little Monster Truck who's the runt of his mechanical litter and who feels out of place, especially compared to his four older brothers. The story will follow the tiny but mighty truck as he proves to everyone that he has "the guts, grit, and gumption to do big things."
The book is inspired by Cena's own experiences, as he grew up with his four older brothers in West Newbury, Massachusetts.
"With Elbow Grease and the books to follow, I want to offer kids a fun and engaging way to learn about the power of ambition, dedication, and heart," Cena told Mashable."These concepts have been transformative in my life…so important to me to pass the positivity on and help our youngest generation see that right mindset is key to achievement."
According to a representative from Random House Children's Books, Cena's trademark "sense of humor and scrappiness," will shine through enough for the books to be enjoyed by people of all ages. Despite what John Cena's theme music may lead you to believe, the time for the release is not now: It's set to hit shelves in October.
This article was originally published on