World Health Organization Releases New Screen Guidelines For Babies and Toddlers
Here's when to turn off the TV.
by Amanda Tarlton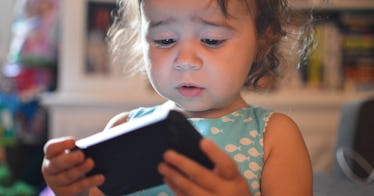 Before you turn on yet another episode of Peppa Pig, consider this: According to new guidelines published by the World Health Organization (WHO) on Wednesday, kids under the age of five should have no more than one hour of screen time a day.
"Achieving health for all means doing what is best for health right from the beginning of people's lives," WHO Director-General Dr. Tedros Adhanom Ghebreyesus explained in a news release, adding that "early childhood is a period of rapid development and a time when family lifestyle patterns can be adapted to boost health gains."
The guidelines recommend that children between the ages of two and four spend no more than one hour in front of screens each day (WHO adds "less is better"). And for babies and toddlers up to the age of two, no screen time is advised.
WHO suggests that parents replace screen time with more enriching activities. "Quality sedentary time spent in interactive non-screen-based activities with a caregiver, such as reading, storytelling, singing, and puzzles, is very important for child development," the agency said in its statement.
It's the first time that WHO has ever released standards of this kind regarding how much screen time is healthy for kids. Previously, the American Academy of Pediatrics (AAP) has stated that babies up to the age of two should avoid all screens with the exception of video chatting. The AAP, similar to WHO, also advised that children between the ages of two and five be limited to one hour of "high-quality programming."
Along with its screen time recommendations, WHO also published guidelines for physical activity and sleep. Children between the ages of one and five, for example, should get at least 180 minutes of physical activity each day and not be sedentary for more than one hour at a time.
This article was originally published on