Will Indy Die In the Next 'Indiana Jones' Movie? Probably!
James Mangold could give Indy the 'Logan' treatment.
by Joel Cunningham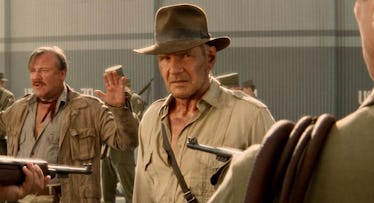 Credit: Lucasfilm/Paramount/Disney
Show of hands —who wants to see a 77-year-old Indiana Jones break a hip while recovering his next ancient artifact? All of you? Okay. Yeah, us too. And according to the latest news on Indiana Jones 5: I'm Getting Too Old For This Sh*T, Harrison Ford is coming back to grab the whip, but this time the tone of the film might be a little dark. Is Indy going full-Logan? It could. Here's why.
This week, Variety reported that Steven Spielberg isn't going to direct Indy 5, which is a little like The Rolling Stones going on tour without Mick Jagger. Regardless of what you think of Spielberg, he created a pop culture phenomenon when he and George Lucas collaborated on Raiders of the Lost Ark in 1981. That said, maybe it's fine that Spielberg is moving on because this same news also tells us that James Mangold, the guy who gave Wolverine a major depressive disorder and a kill count to match in Logan, could take over directorial duties for the bearded one.
Harrison Ford is also back, and technically, this movie will be a followup to 2008's Indiana Jones and the Kingdom of the Crystal Skull; which you know, not everyone loved.
Recently, Mangold last directed the Oscar-winning Ford v Ferrari, but he might be better known as the guy who killed Wolverine in Logan. That movie put a moody, elegiac spin on the X-Men franchise, and a tonal shift like that could be just what Indiana Jones needs in the wake of a Cyrstal Skull, a movie that became a punchline after sending Shia LeBeouf swinging through the jungle alongside CGI monkeys.
Mangold co-wrote the Oscar-nominated screenplay for Logan, which saw Hugh Jackman's aging hero suffering from a diminished healing capacity and a bitter outlook in a grim future America. That adult sensibility could work wonders for an "Old Man Indy." People of a certain age already see Harrison Ford both as a symbol of childhood, but also as a strange cipher of fatherhood and growing up. If Mangold had the guts to make Indy 5 super-realistic, it also stands to reason that he might consider killing off the beloved archeologist.
Whether you're pumped about a Disney-owned Indiana Jones (reminder: writer George Lucas sold Indy to Disney along with Star Wars back in 2012) there's no avoiding the very wrinkly old elephant in the room. And that wrinkly elephant is Ford himself. It's not like he's going to do Indy 6 right after Indy 5.
So, with Mangold at the helm, Indy 5 has the chance to embrace the hero's encroaching death in a truly interesting way. Who knows, it might just be the best Indy movie yet.
Indiana Jones 5 has no release date. Yet.