Why the Original Big Bird Is Leaving 'Sesame Street' This Week
Caroll Spinney is leaving the show after nearly 50 years.
by Alicia Kort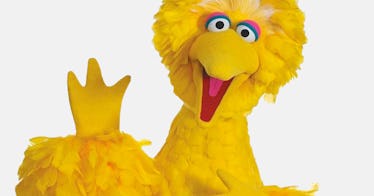 PBS
The puppeteer behind the world's most famous tall yellow bird ⏤ not to mention his grumpy friend who lives in a trash can ⏤ is retiring from Sesame Street this week. Caroll Spinney has been with the children's show since its beginning in 1969 and was instrumental in making the Big Bird and Oscar the Grouch muppets global icons. After nearly 50 years at Sesame Street, and now 84-years-old, Spinney decided to hang up his feathers.
No one knows exactly how many of Sesame Street's 4,400 episodes Spinney appeared in, but the show's spokesperson estimated that he's been in thousands. Big Bird has also appeared on talk shows, danced with the Rockettes, and was even dubbed a "living legend" by Congress in 2000. This bird has accomplished so much thanks to Spinney's dedication. Spinney stopped puppeteering Big Bird and Oscar the Grouch in 2015 because he began having issues with his balance, but he remained with the show.
"Big Bird brought me so many places, opened my mind and nurtured my soul," Spinney said in a statement. "And I plan to be an ambassador for Sesame Workshop for many years to come. After all, we're a family! But now it's time for two performers that I have worked with and respected⏤ and actually hand-picked for the guardianship of Big Bird and Oscar the Grouch ⏤ to take my alter-egos into their hands and continue to give them life."
Spinney might not be on the show as Big Bird anymore, but he's still planning on making public appearances in that 8-foot-tall costume and attending conferences. He told The New York Times that he hopes to be 100-years-old and still "doing Muppet stuff." Big Bird and Oscar the Grouch will continue to be characters on the show, but they will not be portrayed by Spinney.
The show has affected every part of Spinney's life, and he even met his wife, Debra, while working on set in 1973. The 2014 documentary, I Am Big Bird, told the story of Spinney's journey to Sesame Street and his relationship with Jim Henson. "I've been playing a 6-year-old for 50 years," Spinney told The New York Times. "And the children bought it."