For Smart Companies, Perks for Parents are a Smart Strategy
Over the past two years, a large number of companies with competitive paternity leave programs have been stepping up their game.
by Dan Robitzski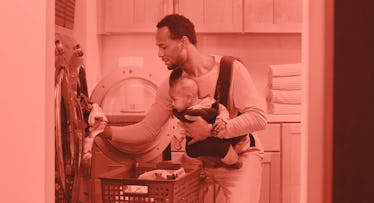 Over the past two years, a large number of companies with competitive paternity leave programs have been stepping up their game. In fact, of the companies that Fatherly researchers spoke to for this year's "50 Best Places to Work for New Dads" ranking, a majority had updated their benefits packages for either new dads or parents in general in 2017 and 2018.
While many of these companies cite forward-thinking leaders, employee forums, and cultural shifts as the inspiration for their new programs, changes to local and state laws also played a part. As of January 1, 2018, all full-time employees in New York state became entitled to eight weeks of paid leave at 50 percent of their average weekly wage regardless of employer programs. And California, which mandates access to 12 weeks of unpaid leave, now insists that employees receive six weeks of partial pay too while caring for a seriously ill family member. This legislation has moved the floor up considerably and the ceiling has moved with it. California and New York both have highly competitive labor markets and the companies on this list compete by offering significantly above-average benefits.
The dual reason for changes in parental leave offerings among the elite companies on Fatherly's list of "Best Places to Work for New Dads": shifts in a competitive landscape for employers and changes in local laws.
Cultural Shifts and Competitive Employers
Scientific research has shown time and time again that a happy worker is a productive worker. When corporations "invest in people" they do so with the bottom line in mind. Retention saves money. Productivity saves money. Happiness, it's fair to say, saves money. Benefits to new parents, who fall in a desirable age group for employers and face real personal challenges in regards to stress, make a significant difference and can alter the mentality of a workforce considerably.
"We invest in our co-workers because it's the right thing to do, and it's good for our business," Simon Lowes, U.S. Human Resources Manager at IKEA, told Fatherly. While providing comprehensive benefits and leave can cost a bit more in the short term, some companies are starting to see that it makes them more competitive in the long run.
Tim State, the Senior Vice President of Associate Health & Well-Being at Humana, explains that enriching family life tends to improve worker satisfaction, a sentiment echoed by numerous other companies. Medical device manufacturers Boston Scientific and Stryker (rumored to be in talks) have both invested in creating metrics to measure that satisfaction and research the potential use cases for new benefits. Both companies make decisions based at least in part on employee feedback.
Many companies also told Fatherly that they recognize a cultural shift is underway and were eager to change policies to embrace nontraditional families, foster parents, and, yes, fathers. First Tennessee Bank and American Express both noted that society and families are evolving and that traditional benefits packages seemed outdated.
Many companies, such as Horizon Blue Cross Blue Shield of New Jersey, Prudential Financial, and IBM have expanded or introduced parental leave for adopted children as a result of these changes.
Laws Benefit New Dads
In 2018, New York introduced the Paid Family Leave Law, which introduces minimum parental leave policies. This law gives all new parents and caregivers eight weeks of leave at half pay — a number that will increase every year through 2021 and puts New York in the company of New Jersey, California, New Hampshire, Washington D.C., and, soon enough, Washington State, which all mandate parental leave.
Laws have massively accelerated changes to policies at growing companies based in New York City, Los Angeles, or San Francisco, which enacted its own law mandating six weeks of bonding time. For instance, New York-based Kimpton Hotels expanded its leave program to all employees from just managers and San Francisco-based payments company Square also tweaked its parental leave policies. The company now offers sixteen weeks of paid time off for new children.
Because these states constitute a healthy portion of the U.S. economy, changes to state law are felt across the country. Some companies have taken the benefits that they are required to provide to some of their employees and extended them to their operations in other areas. Chobani is the poster child for this movement. The New York-based company has extended its new perks to its employees in other states, including Idaho, where the law doesn't require employers to provide leave for adoptive parents or to care for sick relatives.
In the meantime, new parents working in most of the country don't have access to the same perks as new parents working on the West Coast or in the Northeast. And while it might be nice to believe that change will come, triggered by concerns about competitiveness and HR departments craving national uniformity, this is unlikely. Most businesses are small business and even most large businesses are not as successful and growth-minded as those that set themselves apart with parental leave offerings. A cultural change may have come, but it's clear that without accompanying legislative changes, that might not mean too much for most Americans.
This article was originally published on