Hold Me Closer, Tony Danza: 'Who's The Boss?' Is Coming Back To TV
Both Danza and Alyssa Milano will reprise their roles.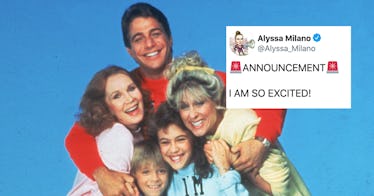 GETTY; Alyssa Milano/Twitter
Yet another beloved pop culture artifact from the '80s and '90s is getting a revival, as Deadline reports that a sequel to Who's the Boss? is currently in development.
Both Tony Danza, who played former ballplayer turned housekeeper Tony Micelli on the original series, and Alyssa Milano, who played his daughter Samantha, have signed on to reprise their roles. The new show will be set 30 years later, with Samantha now a single mother living with her father in the house from the original show.
The new sitcom looks primed to revive themes of gender roles and generational differences, which figured prominently in the original show.
Television legend Norman Lear, who didn't work directly on Who's the Boss? but did own the production company that made it, has signed on to executive produce the new series. That's a good sign, as his track record — All in the Family, Sanford & Son, and The Jeffersons among the shows he's known for — is pretty tough to beat.
Danza confirmed the news on Instagram with a post that said he was "very excited" for the project.
Alyssa Milano was similarly ebullient on Twitter.
While they are reportedly not part of the principal cast of the new show, both Judith Light, who played ad executive and Tony's boss Angela and Danny Pintauro, who played her son, are supportive of the project. The producers are also apparently looking for ways for them to make guest appearances.
The other main member of the Who's the Boss? cast was Katherine Helmond, who played Angela's sexually adventurous mother. Unfortunately, she died last year due to complications from Alzheimer's Disease.
There's currently not a public timetable for the new show, but the idea is to couple it with the license for the 196 original episodes of Who's the Boss? that you can currently stream on IMDbTV.
This article was originally published on