Wholesome Suburban Dad Jim Gaffigan Loses His Sh*t With Trump Supporters
Jim Gaffigan went off and it was glorious.
by Isabella Bridie DeLeo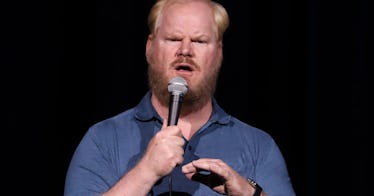 Getty
Jim Gaffigan is known for his typically apolitical comedy, generally beloved for his clean cut humor and parenting jokes like those in his book Dad Is Fat, so it was surprising and sort of stunning to see the comedian trending on Twitter after going on an extended political rant. But it's true. While the Republican National Convention aired, Gaffigan kicked off an hour-long rant with nearly 20 tweets, beginning with "RIP Truth" and "excuse me while I treat myself to confronting some asshole trolls." It was truly awesome (in the dictionary sense of "extremely impressive" and "inspiring great admiration") to watch the comedian's truth be unleashed in real time.
His tweets drew admiration, and of course some criticism, from afar. Fellow comedian Mike Birbiglia commented on Gaffigan's viral tweets, writing, "I know so many entertainers who stay out of discussing politics and don't speak their mind about the corruption we're witnessing in the White House because it's bad for business. My hat is off to @JimGaffigan. We all have to stand up to the incompetent bully in the White House." And the Bad Feminist author Roxane Gay penned, "Wow. The president made Jim Gaffigan, the chilliest dude, snap completely."
A few highlights from Jim Gaffigan's poignant remarks include:
Kudos, Gaffigan. Kudos.
This article was originally published on