Whole Foods Will Most Likely Be Selling Weed Products Soon
by Amanda Tarlton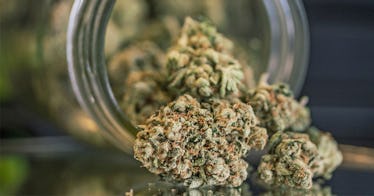 Marijuana products may be making their way onto the shelves at Whole Foods Market, the company's CEO announced on Thursday.
"If cannabis is ever passed in Texas, chances are good that grocery stores will be selling that too," John Mackey said at a talk hosted by The Texas Tribune when asked if Whole Foods would start selling "alternative" products. "You just never know what happens over time with markets. They change and evolve."
The same audience member who posed the original question then followed up by asking Mackey what specific cannabis products customers could expect first ("bugs or pot brownies?").
"Let's see what happens with the market and the government regulations over time," the CEO responded, reports The Boston Globe.
It's not the first time that either Mackey or Whole Foods, which was bought by Amazon in 2017, has commented on the increasing popularity of weed products in the U.S. Not only did Mackey express that he is in favor of marijuana legalization in a 2013 interview with Mother Jones but Whole Foods also has hemp listed as one of the top 10 trends of 2019 on its website.
"A new interest in the potential benefits stemming from other parts of hemp plants has many brands looking to explore the booming cannabis biz," the site reads.
It's something that the U.S. Food and Drug Administration will address sometime in April, according to remarks made by FDA Commissioner Scott Gottlieb during a House hearing last week. He noted that the agency will hold a public meeting to discuss the best way to regulate CBD and hemp in food and dietary supplements.
And whether or not Whole Foods begins stocking marijuana products depends solely on its legalization. Despite the 2018 Farm Bill, which President Trump signed in December and which legalizes hemp and cannabidiol (CBD), weed still isn't legal in all 50 states.
So far, recreational marijuana is legal in just 10 states and Washington, D.C. while medical marijuana is legal in 33 states.