Baby Yoda Has Taken Over the Meme Game. The Best Ones, These Are!
The Force is with these memes...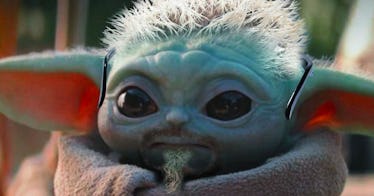 GuyFieri/Twitter
Baby Yoda was the big twist at the end of the first episode of The Mandalorian, and he's quickly become the breakout star of the series. His giant ears, bulging eyes, and the fact that he's constantly swaddled in that brown coat make for maximum cuteness, and maximum cuteness makes for maximum memeability.
Every time a new episode drops, it launches a new series of memes. It can be hard to keep up, so we've compiled the best Baby Yoda content the internet has to offer.
Tom Constantino, a producer on The Orville, cleverly combined the little guy with the "OK, boomer" meme.
Guy Fieri added his signature hair and goatee to create a Baby Yoda who presumably drives around the galaxy in a red convertible.
One of the internet's foundational memes is Kermit sipping tea, so it's to be expected that Baby Yoda sipping tea would gain a ton of traction.
In episode 4, Baby Yoda keeps flipping switches in the Mandalorian's ship. If you add audio, it's easy to make it seem like he just wants to play some music on the radio.
Baby Yoda even found his way into the distracted boyfriend meme, much to the chagrin of BB-8 and the Porgs.
Put this meme in a time capsule, because it captures what's happening in late 2019 perfectly.
Baby Yoda is so damn cute that even people who don't watch The Mandalorian can't resist his charms.
The best part about Baby Yoda memes? The season is only half over, so there are surely plenty more to come.