Here's When the NBA Playoffs Will Actually Start
Postseason basketball is tantalizingly close.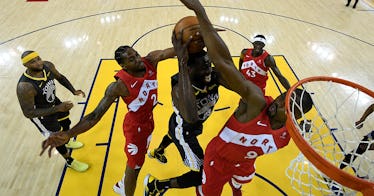 Getty
With just eight more regular-season games on the docket for the 22 teams that are returning to play, the bulk of the resumed NBA season will actually be the NBA postseason. We now also know when the NBA playoffs will take place after they were revealed in a players' union call and reported by Stadium's Shams Charania.
The play-in tournament, should there be a team within four games of the postseason, will happen on August 16 and 17. The first round of the playoffs starts on August 18, the second on September 1, and the conference finals on September 15. The NBA Finals will begin on the last day of September, and if they go a full seven games the last will be played on October 12, about four months after they were originally scheduled to end.
The NBA hasn't played a game since March 11, when Utah Jazz center Rudy Gobert tested positive for COVID-19 after mocking the disease. Fans have been left to stream classic games and, of course, engage in endless arguments about The Last Dance.
None has come close to replicating the thrill of live basketball, of course, and it's hard to overstate how pumped NBA fans are for the return of the season. The news that the playoffs are starting less than three weeks after basketball comes back is even more exciting, and spending the days looking forward to that night's playoff action should make things feel more normal than they have since the coronavirus outbreak began.
This article was originally published on