When Will Disney Reopen? We're Starting to Get an Idea
When they do come back, it will not be business as usual.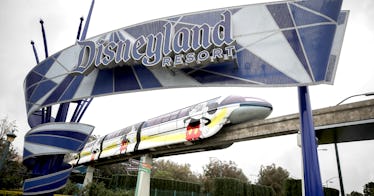 GETTY
In normal times, Disney parks are open every single day, but the COVID-19 pandemic makes these far from normal times. Both Anaheim's Disneyland and Orlando's Disney World have been closed since the middle of March, and even when they reopen, things aren't going to be the same.
Here's what you need to know about when Disney World and Disneyland might welcome guests again and how things will be different for those guests.
When will Disney parks reopen?
There are no firm dates yet, but we do know the benchmarks each state is working under, which gives us an idea.
Orlando's Disney World will probably open up first. The first phase of the state's reopening will begin on May 4 for all but the three south Florida counties hit hardest by COVID-19. Theme parks aren't included in that initial phase, but it will start the process that will lead to their reopening, likely sometime during the summer travel season.
The mayor of the county that contains Disney World will announce a more concrete plan on Friday. He has previously indicated that the process is more likely to begin in June than May.
Over in California, the governor's plan will likely put theme parks in either stage three, in which higher-risk workplaces can reopen with modifications, or stage four, the end of the stay-at-home-order. The state is currently in stage one, and stage two can only happen when hospitalization and ICU trends stabilize and there's enough hospital surge capacity, PPE, testing, and contact tracing capacity statewide.
That's a lot of conditions, and it seems that California will keep Disney closed a bit longer.
Will parks be crowded when they reopen?
It's impossible to say what the demand for Disney tickets will be when the parks do reopen, and Disney World will likely have lower demand than Disneyland due to the fact that 85 percent of its guest fly in.
What we do know is that the supply of tickets will likely be limited. In Florida, the Orange County Economic Recovery Task Force recommended parks operate at half capacity to start before expanding to 75 percent capacity, the idea being that fewer guests will make social distancing possible.
Similar restrictions are likely in California.
What other precautions will be taken when parks do reopen?
Disney Parks Chief Medical Officer Dr. Pamela Hymel wrote an extensive blog post outlining the plans and considerations she and her team are "exploring" to reopen the parks beyond beefing up the cleaning and sanitation schedule.
Hymel mentions both gradual reopening and partial reopening of certain locations as possibilities, essentially the capacity caps as recommended by the Orlando team and opening certain locations (e.g. retail and dining) before the parks themselves.
To accompany these capacity restrictions, expect technologies like virtual queues to be used to minimize crowding of individual park locations.
Hand sanitizers and hand washing stations have already been installed at the parks, and Hymel made a further (vague) promise to "follow guidance from the government and the medical community regarding enhanced screening procedures and prevention measures, including those related to personal protective equipment (PPE), such as face coverings." In other words, staff and possibly guests might be required to cover their faces to enter Disney parks whenever they finally do reopen.
This article was originally published on