What Is Target's Car Seat Trade-In Event? Here's How It Works
by Isabella Bridie DeLeo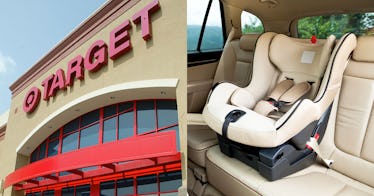 Getty
So you're looking to get rid of your car seat. Instead of tossing it away, parents might want to consider Target's new promotion, which allows you to trade in your car seat for 20% off another baby item. That could be a lot of things, including a stroller, highchair or playard. The possibilities are sorta endless. Or, Maybe you're in the new market for a new-and-improved car seat that doesn't smell of spit up? You can trade in for 20% off that, too. Not a bad deal, right? Baby gear is a huge investment that unfortunately never seems to last as long we like since… blink and before you know it your kid has outgrown all their clothes, strollers and toys. This promotion at least allows busy parents a little more flexibility to trade in what they can't use for something that's a bit more useful and will hopefully last for a while.
When's The Promotion Event?
It's September 13th through September 26th. Set your calendars!
How Does It Work?
There are pretty much four steps. First, you go to Target, bring your car seat inside and drop it off at the specified box. Then, scan the code on the box using the Target app. Third, open the "Wallet" section of the app and find the 20% off promotion in the "Extra Offers" section. And finally, you gotta check the green checkmark next to the item and then order it online or scan the barcode at the register. The whole process is pretty simple, and can be contactless, too!
What Can I Get for 20% Off?
There are dozens upon dozens of items at different price points, from double, triple and even quad strollers for all of your little ones, to cute baby bouncers, swings, and jogging strollers designed to come with you on your morning runs.
What Happens to the Car Seat That I Donate?
They're all recycled! Target says that 14.4 million pounds of strollers have been recycled during their previous promotions.
So if you're thinking of buying some new baby gear, this could be the time.