What's the Difference Between A Severe Thunderstorm Watch and Warning?
A basic guide to navigating an era of increasingly extreme weather as severe thunderstorms hit the country.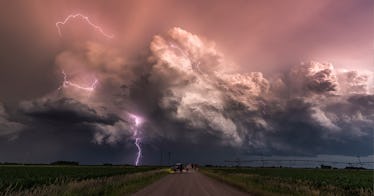 One of the many unpleasant realities of living on a rapidly warming planet is dealing with more extreme weather including heatwaves like the one that just decimated the Pacific Northwest, more (and more powerful) hurricanes, longer droughts, and more catastrophic winter storms. Understanding what all of the various weather watches and warnings are—and what you should do to prepare and protect your family from them—is becoming more and more important as time goes on.
Here's everything the average American needs to know about the weather alerts the experts issue in order to keep us safe. Because the simple fact is that every corner of the country is at risk for some kind of extreme weather, and that risk is likely growing as the planet gets warmer.
What is a severe thunderstorm watch?
NOAA Storm Prediction Center meteorologists monitor the weather in the entire United States 24 hours a day, seven days a week. When they see weather conditions that are favorable for severe thunderstorms—moisture and rising air among them—they will issue a severe thunderstorm watch that can cover parts of a state or several states. As the name suggests, folks are supposed to watch and prepare for severe weather when one is issued.
What is a severe thunderstorm warning?
A network of local NOAA National Weather Service Forecast Offices, each responsible for constant monitoring of a designated area for severe weather, is tasked with issuing more serious severe thunderstorm warnings that can cover parts of a county or multiple counties.
They are issued when "there is a serious threat to life and property in the path of the storm." Your prerogative when one of these is issued? Find safe shelter—ideally in a sturdy enclosed building, but a hard top automobile will do in a pinch—and stay there until the threat has passed.
What other severe weather watches and warnings are there?
The NOAA uses the watch-warning dichotomy for other weather phenomena including floods, flash floods (flooding that begins within six hours of heavy rainfall or another cause), tropical storms and hurricanes, excessive heat, gales, and a variety of marine conditions like rip currents and hazardous seas.
What's the best way to stay up to date?
Any weather app worth its salt will ping you when there's a watch or warning in your area. You can also go to the extremely easy-to-remember website weather.gov to see a clickable national map of all active alerts along with more weather information than you could ever need.