Watch the 'SpongeBob' and 'Curb Your Enthusiasm' Mashup Created to Disturb Kids
This YouTube mashup proves that Larry David's humor plays well in Bikini Bottom.
by Ben Marx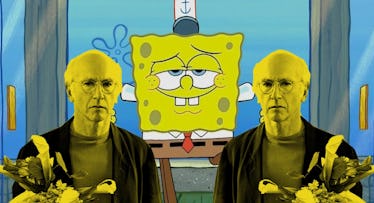 Who would've guessed that Larry David would seem so at home in Bikini Bottom? In this perfect mashup you won't be able to unsee, a Youtuber synced up SpongeBob and his frienemy Squidward with the voices of Marty Funkhouser and Larry David from Curb Your Enthusiasm. Borrowing audio from the seventh season episode "Funkhouser's Sister," the mash-up recreates a moment in which Larry emptily offers to do something nice for Marty's sister, Bam Bam, without meaning it sincerely. In the end, he gets roped into visiting her after she's been released from a mental institution. The whole thing works eerily well.
"Sponge Your Enthusiasm", as the episode is called, comes courtesy of New York-based video editor Adam Schleichkorn, aka Mylo the Cat, who's also responsible for other unexpectedly-perfect combinations, like this mashup of Bone Thugs-n-Harmony and Sesame Street. He certainly has a knack for it. Because while you might not have previously pegged Squidward as a kid-friendly Larry David, his trademark grumpiness makes him a pitch-perfect stand-in. And Funkhouser's voice coming from the normally high-pitched porous chap is the icing on the calamari cake. It's also getting us pretty amped up for season nine of Curb Your Enthusiasm, which premieres October 1 on HBO.
This article was originally published on