Watch This Kid Show Off His Ball-Handling Skills on an NBA Court
by Amanda Tarlton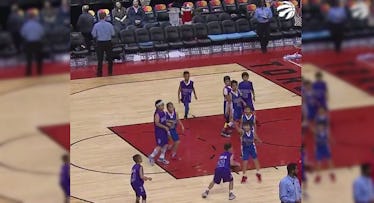 Toronto Raptors/Twitter
During halftime of the game between the New Orleans Pelicans and the Toronto Raptors on Monday night, one young player showed off some seriously impressive basketball skills in a video that's going viral. The young baller, wearing a blue jersey with "21" on the back, dribbles down the length of the court and fakes out his opponents with a couple of crossovers before shooting and scoring, to the sound of the crowd's roaring cheers.
"Oh, no way! Oh my goodness!" the announcer exclaims in shock, as the player sinks his shot with less than 10 seconds left in the exhibition match, put on by the Filipino Basketball Association. The clip ends with a man, who's presumably the winning team's coach, sprinting onto the court, clearly stunned as he jumps around excitedly.
And they weren't the only ones wowed by the boy's crazy moves—the video, which was posted Monday evening by the Raptors and simply captioned "EXTRA SAUCE!", already has over 346,000 views and almost 2,000 likes on Twitter.
While some fans accused the boy of being a "ball hog," most praised the kid's basketball moves, tweeting comments like, "Recruit this kid already!" and "Better than Lorenzo Brown."
One user even took a jab at the Raptors themselves, writing, "Put that kid on the court cause the Raps are playing like crap right now! They need to wake up and get back to business!" The Raptors did, in fact, end up losing to the Pelicans 126-110 though, to be fair, the 12-2 team currently has the best record in the Eastern Conference.
This article was originally published on