Watch Jonathan Groff Sing as Kristoff from 'Frozen' for Jimmy Fallon's Kids
Every kid's literal dream.
by Catherine Santino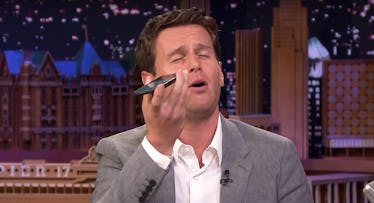 Youtube/The Tonight Show Starring Jimmy Fallon
Anyone who's had a kid in the last ten years is extremely aware of Frozen, the Disney movie musical that took the world by storm with songs like "Let It Go" and "Love Is an Open Door". Children have continued to go absolutely bonkers for the film since its release in 2013, which has only continued since a sequel was announced earlier this year. Jonathan Groff, who plays Kristoff in the movie, recently blessed Jimmy Fallon's kids with the ultimate gift during his appearance on The Tonight Show.
Fallon asks Groff whether he gets stopped on the street a lot due to his association with Frozen, and the actor explains that it's a bit complicated. "It's hard, when you meet a kid, to say 'I'm Kristoff in Frozen,'" Groff explained. "They're like, 'You're not blond, you're not a cartoon, I don't know what you're talking about.'" So, he says, he often opts to sing voice memos as his character, so kids can get a personalized message from "Kristoff" without breaking the illusion of the movie.
Groff then asks if he can record one for Fallon's children, six-year-old Winnie and four-year-old Frances, to which the host obviously agrees (hello, dad of the year). The actor then pulls out his iPhone and begins singing "Reindeers Are Better Than People", taking on the voice roles of both Kristoff and his trusty reindeer Sven, and it's almost too wholesome for words.
Check it out for yourself below; the goodness starts around the mark minute mark.
This article was originally published on