Watch a Frustrated Dad Beg His Daughter to Say 'Dada'
On recent episode of his "New Father Chronicles", YouTuber La Guardia Cross highlights the hilarity of trying to get an infant to call you by your name.
by Raz Robinson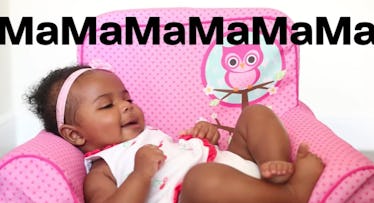 On his popular series called the "New Father Chronicles," Flordia dad and Youtuber La Guardia Cross conducts interviews with his two babies and 3-year-old toddler about everything from why they chew on the furniture to questions about when they plan to move out of the house. And during one of his most recent installments, La Guardia shed light on one of fatherhood's eternal struggles: Trying to get a 5-month-old to say her first words.
Cross opens the video by suggesting to his 5-year old daughter Nayely that she start "calling me [La Guardia] by my proper name." He moves on to ask her what she would say if they saw each other and he said "Hi Nayely." Despite her dad's best efforts, she proceeds to consistently answer him with two other words: "Hi mama." Cross stops to correct her with a "No. DA-DA" every few seconds as the two continue the hilarious exchange. Eventually, Cross gives up before suggesting Nayely move out of the house so he can get more sleep. He even offers to pay for his daughter's new lodgings. It's all pretty adorable — and a funny look at a very common fatherhood event.
Cross shouldn't fret about his daughter's insistence on saying mom: it's not a matter of preference. Saying the word 'mama' only requires the baby to move their lips and make the 'mmm' sound and is a lot easier. Saying 'dada' on the other hand requires far more muscle control as the baby's tongue needs to touch the roof of their mouth to make the "d" sound.
This article was originally published on