This 10-Year-Old Destroyed 'Enter Sandman' On Stage With The Foo Fighters
The kid knew the lyrics better than the rockers on stage with him.
by Raz Robinson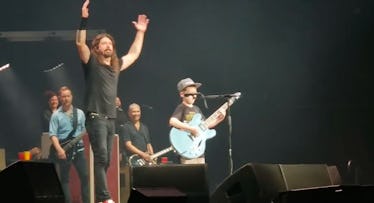 Brian Gittings Youtube
Foo Fighters frontman and all-around good guy, Dave Grohl has an affinity for sharing the stage with teenagers and kids. Rather than get too wrapped up in being one of the world's most famous rock stars, he regularly uses his platform to let the next generation shine. Case in point: During a recent show in Kansas City, Grohl invited a 10-year-old fan onto the stage to sing Metallica's "Enter The Sandman." And not only did the kid crush it, but he breezed through pretty much a flawless rendition of the classic song.
Actually, it started when Grohl asked the boy onstage and if he played guitar. When the kid said "yes," Grohl immediately inquired about what songs he knew. The boy timidly replied, "I know a lot of Metallica songs." Before Grohl knew what was going on, the boy was off to the races playing the song. As the 49-year-old rocker threw his hands up in the air, the rest of the Foo Fighters started to get in on the jam.
As it becomes evident that the 10-year-old knows enough of the song to keep things going, Grohl began doing his best James Hetfield impression and singing. Eventually, the kid started playing another Metallica song and, Grohl, in ultimate cool guy fashion, noted that the tour was close to completion and he may as well give the guitar to the young boy. As the boy walked off the stage and back to his mother, Grohl quipped that he better not "see that shit on eBay next week."
This article was originally published on