New Law Would Make Kids Stay In Booster Seats Until They're Tweens
by Amanda Tarlton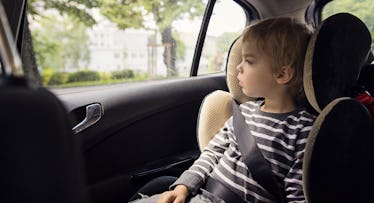 Getty
As of January 1, 2020, kids in Washington state will have to be in booster seats for longer—potentially even until middle school. A new law mandates that booster seats be used for any child under the age of 12 who is shorter than 4 feet 9 inches.
Under House Bill 1012, which was signed by Governor Jay Inslee on Friday, kids must remain in booster seats "until the vehicle lap and shoulder seat belts fit properly, typically when the child is between the ages of eight and twelve years of age, as recommended by the American Academy of Pediatrics, or must be properly secured with the motor vehicle's safety belt properly adjusted and fastened around the child's body."
The stricter car seat law also says that any child under the age of two years old must use a rear-facing car seat. Children between the ages of two and four are required to be in a forward-facing child harness seat for as long as they meet the height and weight limits.
Additionally, all kids under the age of 13 must sit in the backseat of the car. Anyone found to be in violation of the new law, with the exception of buses, shuttles, and for-hire vehicles, will be given a traffic infraction.
"These changes will help parents protect their children on the road," Dr. Beth Ebel, a professor of pediatrics at the University of Washington School of Medicine, said in a statement. "This change brings us in line with current best thinking about keeping kids safe."
Washington isn't the only state tightening its car seat regulations since the American Academy of Pediatrics (AAP) published updated child safety guidelines in April 2011. In the years following their stricter recommendations, 12 states (California, Connecticut, Illinois, Nebraska, New Jersey, New York, Pennsylvania, Rhode Island, South Carolina, Oklahoma, Oregon, and Virginia) updated their laws to require rear-facing car seats for all children under the age of two.
This article was originally published on