Make Your Own Custom Hand-Washing Sign With Your Favorite Song
It's a damn clever idea that can actually help people.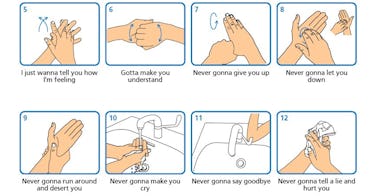 You don't need a mask to protect yourself from COVID-19, but you do need to wash your damn hands. And by wash, we don't mean a five-second scrub or the dreaded rinse and flick. You (and, crucially, your kids) should be thorough, which means spending some time at the sink. The classic move to make sure you're scrubbing for at least 20 seconds is to sing "Happy Birthday" or "Row Row Row Your Boat" (the latter twice), but a clever teenager created a now-viral tool (pun intended) that turns any song into a hygienic anthem.
Wash Your Lyrics is the brainchild of William Gibson, a 17-year-old (!) full-stack developer and designer based in the United Kingdom. All you have to do is enter the artist and title of the song you'd like to sing while washing your hands. Gibson's script will pull its lyrics from Genius and insert them line by line into the hand-washing technique poster distributed by the National Health Service.
It's proved to be a popular idea, as in its first day of operation people made nearly 90,000 posters, according to Gibson's calculations. It's so popular, in fact, that traffic overwhelmed the server, forcing him to migrate the database to a different provider. The site is back up, but still seems a bit shaky, so don't be surprised if it's a bit shaky when you try to use it to print, say, a "Baby Shark" poster for the kids' bathroom.
Wash Your Lyrics isn't just a public health tool, however, it's also a meme for the end of the world. A black metal band inspired by a webcomic made a darker version of the poster more appropriate for their sound.
Another Twitter user added another meme — country cat — to her poster, which used lyrics from "Take Me Home, Country Roads" by John Denver.
Others simply found songs with lyrics that look funny printed out this way like Daft Punk's "Around the World" and David Bowie and Queen's "Under Pressure."
But the ultimate Wash Your Lyrics poster is this one simply because it uses one of the most important songs in the history of the internet.
This article was originally published on