Walmart Takes Guns and Ammo Off of Store Shelves Nationwide
Store management in concerned about future civil unrest following the election.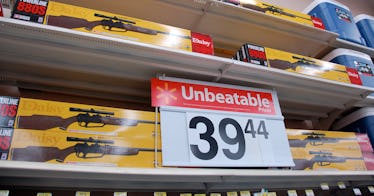 Chris Devers/Flickr
Update: At 2:30 today, the Wall Street Journal reported that Walmart has reversed course and decided to put guns and ammunition back on store shelves. Original story below.
Walmart, the largest brick-and-mortar retailer in the country, has removed firearms and ammunition from its sales floors nationwide. The move comes after civil unrest in Philadelphia prompted by the police killing of Walter Wallace, Jr., who was shot multiple times after his family called 911 looking for psychological help.
A Walmart in the Port Richmond neighborhood of Philadelphia was ransacked in the second night of unrest, as other big box stores have been in other cities affected by police violence.
"We have seen some isolated civil unrest and as we have done on several occasions over the last few years, we have moved our firearms and ammunition off the sales floor as a precaution for the safety of our associates and customers," the company said in a letter to store managers outlining the changes.
Walmart sells firearms and ammunition in about half of its 4,700 U.S. locations, particularly in areas where hunting is popular. It has previously done more focused removals of these products from store shelves in areas thought to be more at risk, but this marks the first time it's taken that step nationwide.
Guns and ammo will still be available in those stores, but customers will have to ask an associate to retrieve them from the back of the store.
This move is the latest instance of Walmart tightening restrictions on gun sales. It stopped selling semiautomatic ammunition after a shooting at a Walmart in El Paso last year left 23 people dead, and it raised the minimum age to purchase guns and ammo to 21 after the Parkland shooting a year earlier.
There is currently no timetable for firearms and ammunition to return to store shelves.