This Kid Opening Up His Christmas Gift Will Make You Cry for the Best Reason
All he wanted for Christmas was his dad.
by Amanda Tarlton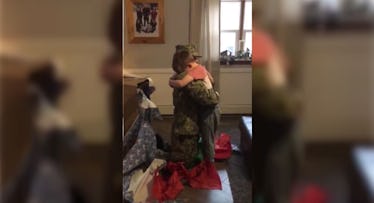 Fatherly/Instagram
One little boy got the surprise of a lifetime when he opened up one of his presents under the tree. Inside the giant gift-wrapped box, Xander found the only thing he had asked for this Christmas: his dad, who is a member of the U.S armed forces.
"What do you think it is?" Xander's mom asks in the background, as he starts tearing open the gift. When he says he has no idea, she adds, "I think you're going to like it!"
And he definitely did. Because when Xander finally gets one end unwrapped, he peers inside to find his gift—only to have his father pop out from behind a wad of red tissue paper. Still dressed in his military uniform, the dad gives his son, who is a combination of speechless and teary-eyed, a huge hug.
People on social media are loving the heartwarming clip, which was originally tweeted by user @jayrayy7 with the caption, "My nephew got to unwrap the only Christmas gift he asked for a few days early and his reaction broke my heart." It already has over 807,000 likes, one of which is from actor John Krasinski, who shared it writing, "Wow…wow… Redefines 'happy holidays.' Here's to you and yours!"
Another user expressed a similar sentiment, commenting, "This is just the greatest. We ask so much of those that serve and we risk forgetting those that they leave behind. A thousand blessings on this family and the families of all who serve our great nation."
This article was originally published on