USPS Says Millions of Gifts Won't Be Delivered in Time for Christmas
You already know whose fault this is.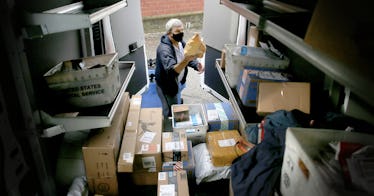 Getty
The USPS is in a state of pandemonium right now. Widespread shipping delays mean millions of packages won't arrive in time for Christmas. Reporting in the Philadelphia Inquirer found facilities so full it's difficult to walk, packages sitting in trailers because there's no room to unload them, and pre-Thanksgiving postmarks remaining undelivered. It's grim. But why is the USPS so overwhelmed by Christmas?
Well, there are three principal reasons for this situation. The first is the record volume of holiday deliveries. COVID-19 means fewer people are shopping in person and traveling, which means more people are shopping online and mailing gifts to loved ones in lieu of bringing them over on Christmas Day. FedEx and UPS have reached capacity and are restricting what they will accept from large-volume retail shippers.
"The Postal Service can't and wouldn't do that. They take on all comers. So you can well imagine that those are who are being turned away from FedEx, UPS and perhaps others are in all likelihood going to turn to the Postal Service," John McHugh, chairman of advocacy group The Package Coalition, told the Washington Post. The agency is now receiving up to 6 million packages a day, up 14 percent as of December 12. That's a lot of mail.
The second reason the USPS is struggling? COVID-19 has absolutely walloped its workforce. The American Postal Workers Union reports that 19,000 USPS workers have called in sick or are isolating themselves after potential exposure to the novel coronavirus. This means they're unavailable to work just when they're most needed.
The third reason your Christmas presents won't arrive on time? "Cost-cutting initiatives" implemented by Postmaster General Louis DeJoy, many without the legally necessary approval of the Postal Regulatory Commission, have slowed things down. This affects not just the amount of people on staff, but the ability of the USPS to hire seasonal workers to help out with the generally increased volume of Christmas deliveries.
DeJoy has attempted to eliminate overtime, limit the number of trucks, remove sorting machines, reduce seasonal hiring, and restructure the postal service to centralize power around the postmaster general, reassigning many senior staffers with decades of expertise into roles that reduce their influence. Federal courts have stopped some of these changes, but even in those cases, conflicting direction from USPS management and the courts means confusion and delays are bound to happen.
Whether it's a direct result of a Trump appointee (and huge Republican fundraiser) purposefully wrecking the USPS as part of a yearslong GOP effort to destroy it, and the election, the indirect result of Trump's disastrous handling of the COVID-19 pandemic (the U.S. has four percent of the world's population but over 23 percent of its confirmed COVID-19 cases), or both, the blame for your kids not getting their Christmas presents on time falls squarely at Trump's feet. What a Grinch.
This article was originally published on