24 States That Cut Unemployment Benefits Are Lying About the Reason
The data says it's too early to cut pandemic employment benefits. GOP governors disagree.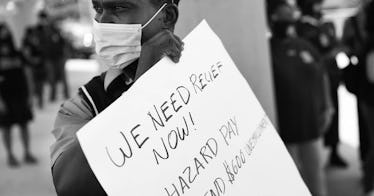 GETTY
The Republican governors of 24 states have announced that they will block the federal government from supplementing the unemployment benefits provided to employees in their states, citing that workers are saying they are getting more money staying home than they would at work from unemployment. These claims, factually dubious, represent real, actual, harmful bad news for the families that are relying on the extra payments to stay afloat amidst the economic devastation of the pandemic.
And a new report shows that despite widespread claims of labor shortages, many millions of American workers are looking for work — and not finding it.
Here's what you need to know about the disappointing development, including which governors are cutting off unemployed workers in their states from these benefits, what programs are affected, and why, according to a new analysis from the Economic Policy Institute, cutting unemployment benefits is more about cruelty than problem-solving.
Which states are cutting benefits?
Alabama
Alaska
Arizona
Arkansas
Florida
Georgia
Idaho
Indiana
Iowa
Mississippi
Missouri
Montana
Nebraska
New Hampshire
North Dakota
Ohio
Oklahoma
South Carolina
South Dakota
Tennessee
Texas
Utah
West Virginia
Wyoming
What benefits are being cut?
Why is it too early?
In April, there were 8.2 million fewer jobs in the U.S. than there were before the pandemic
The unemployment rate is currently 6.1 percent, which means nearly 10 million people are actively looking for work but can't find it,
Why is the "labor shortage" not a good reason to cut UI?
simply offering better wages is a better way to fill positionsunemployment benefits are not limiting job growth in a meaningful wayAnd even with the federal benefits in place, more workers are returning to the workforce;Those still relying on these programs are those who need them most.