In UK, Kids As Young as 12 Can Get COVID Vaccine Without Parental Consent
Could that ever be the case in the United States?
by Ethan Freedman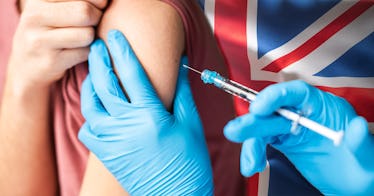 Though in the United States, the vaccine has been approved for kids 12 and up for a bit, the COVID-19 vaccine rollout in the United Kingdom is just now reaching 12 to 15-year-olds, with initial vaccinations likely to start later this month. And in the UK, unlike in the United States, kids as young as 12 can get vaccinated without their parent's approval.
According to the BBC, Vaccines Minister Nadhim Zahawi noted that in cases where parents don't want their children to receive the vaccination, the kids may still be able to get the shot if they choose to.
As it turns out, there is legal precedent for such a thing, and the BBC referred to information from the National Health Service on the country's laws regarding children's consent to medical treatment. In the UK, anyone aged 16 and older has authority over their own medical decisions. But even kids younger than 16 can make those decisions themselves if they're deemed to be "Gillick competent."
The concept of Gillick competence stems from a decades-old legal case. In the 1980s, a parent of children younger than 16 wanted to block the Department of Health from offering treatment or information on contraception. But the House of Lords, in the case of Gillick v West Norfolk and Wisbech AHA, ruled that children are entitled to consent to medical treatment on their own if they are determined to be intelligent and mature enough to do so. Since this decision, the UK has applied the test of Gillick competency to school vaccination initiatives, reports The Independent.
In the United States, laws surrounding kids' consent to vaccination can vary by state, according to the Kaiser Family Foundation, noting that the vast majority of states require parental consent for anyone under 18, with some exceptions.
But according to reporting from BuzzFeed News, some state legislators are also working to change vaccine consent laws for minors, but not always in a way that increases kids' access to medical treatment. For example, some states have made it more difficult for kids to receive the vaccine — such as North Carolina's law requiring parental approval for vaccines only given emergency use authorization by the FDA or Tennessee's new mandate to not give out any information on vaccines at all to kids in schools.
Elsewhere, however, lawmakers are trying to increase children's access to vaccination. In Washington, D.C., the city council passed a law allowing anyone 11 or older to receive a vaccine without parental consent, assuming they meet other standards for informed consent. (No vaccine is currently authorized for anyone younger than 12.) NPR also reports that a group of D.C. parents are taking the city to court for this decision.
There is also a precedent of the children of anti-vax parents getting vaccinated anyway when they're able to do so legally. A few years ago, Ethan Lindenberger made headlines for getting vaccinated after he turned 18, despite the protests of his anti-vax mom. Since then, he's become an activist against the anti-vaccination movement, including testifying to Congress.
At the moment, the CDC recommends that everyone over the age of 12 gets vaccinated against COVID-19.