UFC Fighter Ditches Huge Fight To Donate Bone Marrow to His Daughter
It's what any parent would do.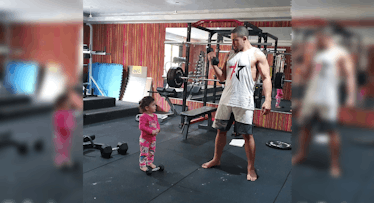 Instagram/robwhittakermma
Australian mixed martial arts fighter Robert Whittaker just pulled out of a March 7 fight. He doesn't have a broken bone or a torn ligament that requires surgery, but he is still going under the knife because, when it comes down to it, he's a father before he's a fighter.
Whittaker's nearly one-year-old daughter Lilliana is sick, and she needs a bone marrow donation. So he made the decision to donate his own, which means surgery and missing his scheduled middleweight fight with Jared Cannonier in Las Vegas.
Whittaker made the announcement with an Instagram post that featured himself and his daughter walking hand-in-hand away from the camera.
Dana White, the president of UFC, confirmed the reports and offered words of support.
"When you talk about somebody whose priorities are in the right place, who is completely selfless and down to the core a good human being, that's Robert Whittaker," he told Submission Radio, an Australian MMA talk show.
"The reason Robert Whittaker is not fighting in this fight is one of the most unselfish things I've seen in my life. He's a good man, he's a good human being, and I have a lot of respect for him. Good luck to him in what he's dealing with right now."
The fight would have been Whittaker's first fight since losing the middleweight crown at UFC 243 in October. Here's hoping that post-surgery he can go on the comeback trail with a happy and healthy daughter at home.