Chrissy Teigen is Beefing with Trump on Twitter and the Responses Are Predictably Hilarious
"Filthy mouthed wife" is just the beginning.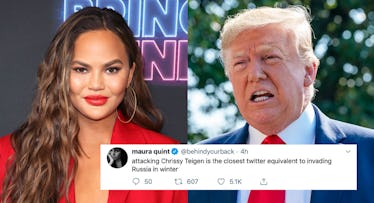 Twitter/@behindyourback
President Trump's TV habits being what they are, there was a good chance he'd see John Legend talking to NBC anchor Lester Holt about his work to end mass incarceration. His Twitter habits, pettiness, and misogyny being what they are, there was an even better chance that he's tweet something juvenile, sexist, and self-absorbed in response.
Last last night, Trump launched his rant complaining that he didn't get enough credit for signing the First Step Act into law before tagging and criticizing Legend and Holt directly but only mentioning Legend's "filthy mouthed wife," model and TV host Chrissy Teigen, without tagging her directly.
Teigen was not about to let that stand. She rightly pointed out the discrepancy and gave the president a brand-new sobriquet.
That tweet blew up, and Legend and Teigen, who have as good a claim to first couple of Twitter as anyone, stoked the controversy, winking at their combined 24.4 million followers to get #PresidentPussyAssBitch trending.
It's not clear if a hashtag with vulgarity can trend, but #filthymouthedwife and #TeamChrissy did.
These responses led to a flurry of replies from both sides, a torrent of GIFs and memes that mainly preached to whichever choir, MAGA-heads or Teigen stans, they were aimed at.
But a lot of them were funny! And those are the ones we like. Because if the president won't stop wielding Twitter as a weapon he deserves the ridicule he gets—and we deserve a moment of levity. Here are some the best replies to the controversy.
One response was so good that Teigen shared it with her 11.5 million followers directly.
Of course, these funny tweets are but a distraction from the materially awful things that are happening in the world, as Media Matters's Jordan Uhl pointed out.
So while #filthymouthedwife might be trending right now, it and this feud will fade, leaving us with the still difficult fact that the president is the kind of guy eager to call out a woman on Twitter but too cowardly to mention her by name.