Twitter Is Explaining #ParentingIn5WordsOrLess and It's Hilarious
It's surprising how much can be said with just five words.
by Raz Robinson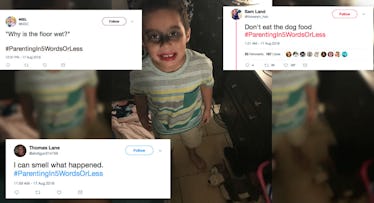 Twitter @NGC @Jess1228 @shotgun314159
As much as parents love their children, raising kids is an extremely stressful and often thankless experience. But while the low moments of parenting may not be funny as they're happening, it's always hilarious when moms and dads come together to complain about the insane ways kids have managed to make their parents lives a living nightmare. And with the hashtag #ParentingIn5WordsOrLess now trending on Twitter, hundreds of parents from all over are chiming in with some hilariously brief explanations of the most challenging job in the world. Here are some of our favorites.
A picture does say a thousand words, but you don't need your eyes to know that too much silence could mean a thousand different things. And, when you're a parent, almost none of those things are good.
Some of the best tweets were more simple than clever, as they perfectly captured the insanity that comes with raising kids.
And of course, a big part of being a parent is having to deal with a lot of really weird and gross shit.
Before having kids, sleeping in was a common occurrence for most people. But as parents, sleep deprivation is the name of the game
For kids, Legos are a fun way to use their creativity to build something incredible. But for parents, they are the source of unspeakable pain.
No matter how hard a parent tries to keep their kid safe, injury is inevitable. So unless it's an emergency, parents aren't going to be too concerned about a stubbed toe or scraped elbow.
And sometimes parenting can just be weird as hell.
Despite all the headaches that come with trying to successfully raise tiny human beings, all parents know that deep down there is nothing in the world they would rather do than be a parent, even when their kids are behaving like absolute monsters.
This article was originally published on