Trump Administration Chooses For-Profit Colleges Over Veterans — Again
This is getting ridiculous.
by Isabella Bridie DeLeo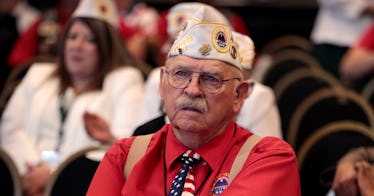 GETTY
It's an understatement, to say the least, that Trump has been isolating some of his military fan base lately. It looks like he's done a lot of lip service in praise of vets recently, from photo-ops at the Walter Reed Military Hospital, to attending a wreath-laying ceremony at the Korean War Memorial, all while it's come to light that Trump may have known about Russia allegedly offering bounties on American soldiers in Afghanistan in 2019.
Now, NPR has reported that Trump is choosing for-profit colleges over supporting vets who were defrauded and misled by those schools. The Department of Veteran Affairs will be allowing for-profit schools, like the University of Phoenix, to access GI Bill money, even though the school—which is the largest recipient of GI Bill funds—previously had to cough up almost $200 million for making misleading claims to students about career placement. As The New York Times reported, Trump also vetoed a resolution in May that ultimately makes it much more difficult for vets to successfully seek loan forgiveness. But why one might ask, are GI Bill funds so crucial to for-profit colleges? Well, it's because they allow the schools to exploit a legal loophole. As NPR explains, the schools are required to receive 10% or more of their funding outside of federal aid, and GI Bill funds don't count towards the 90% cap on governmental aid.
"We always say in the military that you leave no soldier behind and I definitely feel left behind, by my president, by my government," Tasha Berkhalter, who lost all her GI money by enrolling at the now-defunct ITT Tech in Indiana, told NPR. And it looks like many more veterans may also keep getting left behind.