The Federal Government Will Start Protecting Transgender Students' Rights
Trans and non-binary students' rights are under attack, and the Department of Education is finally joining the fight.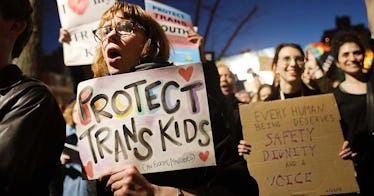 GETTY
During the Trump administration, Education Secretary Betsy DeVos (remember her?) revoked an Obama-era guidance that interpreted Title IX of the Higher Education Act as protecting students on the basis of their gender identity. Now, the Biden administration's Education Secretary, Miguel Cardona, is leading a charge to reinstate those protections.
"Today, the Department makes clear that all students—including LGBTQ+ students—deserve the opportunity to learn and thrive in schools that are free from discrimination," Cardona said in a press release announcing the new "Notice of Interpretation," an early step in the department codifying new rules. Importantly, the Department of Education has not reinstated the Obama-era guidance in the midst of a review of its policies.
But what is almost certainly to come is a rule stating that schools that receive federal funding will not be allowed to discriminate against students who are transgender or non-binary. It also paves the way for students who have been discriminated against on the basis of their gender identity to file a Title IX complaint through the Department of Education's Office for Civil Rights.
Part of the justification for the reversal is a Supreme Court ruling in Bostock v. Clayton, published one year and two days ago, in which the Court—in an opinion authored by Trump nominee Justice Neil Gorsuch—ruled that gay, lesbian, and transgender workers are protected by the Civil Rights Act, that the prohibition of discrimination "because of sex" also precludes discrimination based on gender identity and sexual orientation.
Title IX contains the nearly identical phrase "basis of sex," so it makes sense for the ruling to also apply to how that law is interpreted. The Department of Education directly cited the Supreme Court ruling as its justification for the change.
The news comes as eight states have passed banned transgender students from playing sports that correspond with their gender identity. Anti-transgender legislators have introduced similar bills in 26 other states.
The new guidance from the Department of Education will not immediately invalidate these state laws—that's a question that a court will almost certainly decide. Where it will most be felt is in individual cases reported to and investigated by the Office for Civil Rights, a federal entity unaffected by state laws. But Cardona is hopeful that institutions, seeing which way the wind is blowing, are proactive about complying with what the new rule is going to say.
"The reality is each case has to be investigated individually," Mr. Cardona told the New York Times. Schools should "not wait for complaints to come to address these issues."
But given that it's the culture war issue du jour, conservative state officials are unlikely to simply abandon their efforts to discriminate against transgender people. Even if they are ultimately unsuccessful in codifying discrimination into state and federal law, the controversy allows them to drum up outrage, raise money, and castigate their political opponents as anti-religion.
The stakes are much higher, of course, for the transgender and non-binary students who are subject to discrimination by the institutions charged with protecting and nurturing them. And while he didn't provide a timeline for enacting the new rule, Cardona did signal that he knew time was of the essence.
"We are going to move as quickly as possible on it. We know many folks are waiting."
This article was originally published on