Toys 'R' Us to Close All U.S. Locations
Toys "R" Us announced today that they'll be shutting down all 800 U.S. locations.
by Ben Marx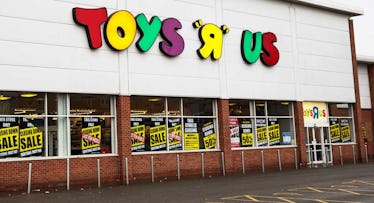 GETTY
When Toys "R" Us announced that it would shutter every one of its UK locations, it was only a matter of time that the once-formidable toy retailer's U.S. suffered the same fate. Alas, that sad day has come a lot sooner than expected. Per The Washington Post, Toys "R" Us announced plans to sell or close all 800 of its U.S. retail locations, including its Babies "R" Us stores.
Toys "R" Us, which was founded in 1957, struggled in recent years due to increased competition from online retailers. In September, the company filed Chapter 11 bankruptcy in an effort to restructure its $8 billion debt. Then in January, after a lackluster holiday season, it announced the closure of 182 stores. Now, despite attempts to bring in more customers, the retailer will close the 800 remaining stores. And though the closures are certainly a sentimental blow to the heart — and the toy industry — what's more concerning is the effect they'll have on as many as 33,000 jobs. The company says it will close all of its stores over time instead of all at once.
Chief Executive David Brandon announced the closures to workers at its New Jersey headquarters, and added in a follow-up conference call: "I have always believed that this brand and this business should exist in the U.S."
MGA Entertainment, the parent company of such brands as L.O.L Surprise and Bratz, is reported to have placed a bid to buy 82 Toys "R" Us locations in Canada. Per the Post, he might also buy as many as 400 U.S. stores, which he would seek to operate under the Toys "R" Us name.
Here's hoping the chain is resurrected. In any case, we'll pour some out for Geoffrey the Giraffe — and search for any gift cards we might have around.
This article was originally published on