Toys 'R' Us May Have Turned Down a $900 Million Buyout Bid
The company has reportedly rejected a buyout from the billionaire behind the Bratz and L.O.L. Surprise brands.
by Raz Robinson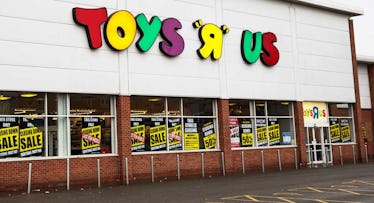 GETTY
Toys 'R' Us may have just turned down an almost $900 million buyout from Isaac Larian, the CEO of MGA Entertainment Inc, according to someone close to the matter. If the rejection is real, the one-time toy store titan would be turning the offer down in favor of continuing to liquidate all their assets in the U.S. and U.K. while pursuing a more stable business in the rest of Europe and Asia.
Since Toys 'R' Us announced its bankruptcy last month, Larian, whose MGA Entertainment is behind L.O.L Surprise, Little Tikes, and Bratz, has insisted that the retailer's closure would be bad for the toy business at large. In an effort to save the retailer, Larian even launched a crowdfunding effort with a goal of $1 billion. He also planned to raise an initial contribution of $200 million with the hopes that regular people who wanted to save the company would contribute the other $800 million.
Larian's GoFundMe page is still up, though he ultimately ended up offering $615 million for a majority of Toys 'R' Us' stateside locations and $215 million for their Canadian properties. He's reportedly not heard anything about the rejection but noted in a statement emailed to The Record, that it would be "very disappointing," if the company truly turned down his offer.
"It is our hope and expectation that we can continue to participate in the bid process, so we can keep fighting to save Toys 'R Us,"Larian said in the rest of the statement. "We feel confident that we submitted a fair valuation of the company's US assets in an effort to save the business and over 130,000 domestic jobs."
It's not clear why Toys 'R' Us may have ultimately rejected Larian's offer, but as an attorney representing the company noted in court, Toys 'R' Us has received several bids exceeding $1 billion to purchase an 85 percent stake in its Asian business. Using Physical locations to compete with the likes of Amazon and other online retailers is already a challenge, but Amazon isn't quite as popular abroad as it is in the U.S. That being said, taking something in the vein of $1 billion to avoid competing in a more difficult marketplace sounds like a winning proposition for a company that has already filed bankruptcy.
This article was originally published on