Magic Kingdom Is Getting an IRL Version of Pizza Planet from 'Toy Story'
Sentient toys not included, unfortunately.
by Raz Robinson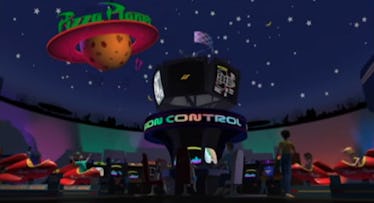 Youtube
Disney is slated to open their much-anticipated Toy Story Land in June. And, recently, the company revealed plans for another Toy-Story themed location: a real-world version of them film's Pizza Planet. For those unfamiliar, Pizza Planet is the arcade-style restaurant where Woody and Buzz first the franchise's tiny spaced out green aliens, and learn first-hand of their strange cultish worship of "The Claw." The real world version of the restaurant will grace Disney World in April.
Disney has made a few attempts at a Pizza Planet restaurant before. Unlike most of the products the company sells, however, none of the previous attempts impressed fans and critics much. The new restaurant, per Delish, won't open at Disney Hollywood Studios' Toy Story Land. Rather it will take over an old restaurant in Magic Kingdom's Tomorrowland subsection. According to Disney News Today, the restaurant's official name will be "Alien's Pizza Planet — A Better Place."
The term 'a better place' is actually a play on a scene from the original Toy Story. When the little green aliens are picked up and out of the claw machine, they ascend towards a really bright light. Is it their version of heaven? The subtitle for the new Pizza Planet surely hints at that, and at the fact that the aliens will be a big part of the establishment.
https://www.instagram.com/p/mxEMCiiv6y/?utm_source=ig_embed&utm_campaign=embed_profile_upsell_logged_in_test
Though the restaurant is opening up soon, it might be gone just as quickly, and it is deemed temporary. As Delish points out, temporary in Disney-speak can quickly turn into a year or more if the restaurant is a huge hit, a la the Beauty and the Beast-themed Red Rose Tavern.
This article was originally published on