Check Out This Giant Bag of Plasma Tom Hanks Donated to Fight COVID-19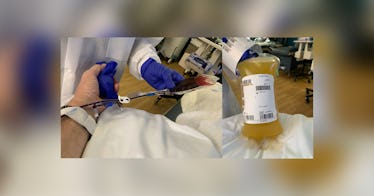 True to his word, Tom Hanks has donated some of his blood plasma to scientists working to develop a vaccine for COVID-19. The actor contracted the disease while shooting a movie in Australia, and he's already made a full recovery. That means his blood is full of antibodies that researchers can use to help develop a badly needed vaccine for the disease. Call it a Hank-ccine (he already did).
Hanks also stayed true to his weird social media presence — it often features melancholy photos of single gloves found on the street — by sharing a photo of the bag full of his plasma.
Not regularly interacting with bags of plasma, that thing looks pretty damn big or, as Hanks himself put it, "Such a bag!" Such a bag, indeed.
Hanks's wife Rita Wilson, who also had the disease, posted a photo of herself having (a less impressive amount of) blood drawn for an antibody test, a necessary first step in donating plasma to scientists.
Both Hanks and Wilson thanked Dr. Anne Rimoin in their posts. Rimoin is a professor of epidemiology at UCLA and, according to her bio, "an internationally recognized expert on emerging infections, global health, surveillance systems, and vaccination." In other words, she's someone you can definitely trust to get the most out of your antibody-rich plasma.
Hanks and Wilston were two of the first famous people to contract the disease, and their periodic social media updates (and that from a certain member of their family) along with Hanks's hosting of the first "SNL at Home" special have been rare bright spots in dismal news cycles.
Their progress from quarantined patients to "helpers," as much of a product of their fortunate circumstances as it might be, does bode well for those of us who aren't as rich or famous but are equally eager for a vaccine to be developed.
This article was originally published on