Tom Hanks' Shirtless Son on Instagram Is Peak 2020
"Wassup everyone, yeah, it's true, my parents got coronavirus, crazy."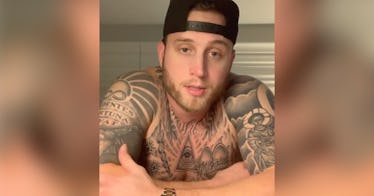 Yesterday was a weird day. Certainly it felt like a watershed moment in our ongoing global health crisis: the World Health Organization upgraded the threat of coronavirus to pandemic status, Donald Trump imposed travel restrictions from Europe, and Tom Fucking Hanks announced that he and his wife Rita Wilson have tested positive for COVID-19.
(As author Catherynne Valente pointed out on Twitter, anyone writing a novel about a disease outbreak in 2020 America "would 100% have Tom Hanks get it in Chapter 8.")
If March 11 was an extremely on-brand 24 hours for this year, however, nothing illustrated it better than an Instagram video from Tom Hanks' son Chet, confirming to his 214K followers that, indeed, his parents have the virus, but no, it isn't a big deal.
My initial reaction to the video was to marvel at the revelation that Tom Hanks has a son named Chet, and he is a actor/rapper/Instagram star with a tabloid track record and a lot of tattoos. (A far cry from the Hanks' offspring I was previously aware of, Tom-doppelgänger Colin.)
But then I watched the video again (and again), and it really began to sink in: as suggested elsewhere, there is perhaps nothing more 2020 than a video of a shirtless, tattoo-covered millennial informing us via social media that, wassup, yeah, it's true, his extremely famous parents have contracted a virulent illness, but don't worry, it's fine—it doesn't seem like that big of a deal.
I am at a reduced risk for coronavirus—I am under 40 (ok, barely) and I have no comorbidity to speak of. My wife is healthy. My kids are under 9. We shouldn't be too worried. And yet I'm worried: we made the decision to pull our kids out of their New York City schools for at least the next few days and our pantry is stocked.
Yet somehow, finding out America's dad has coronavirus but is handling it well (we'll know it's serious when he stops signing his Tweets "Hanx"), and being reassured by his son that "they're not trippin'" and "it's all gonna be all right" was oddly comforting.
Get well soon, Tom Hanks! Hopefully by the time your new movie opens in June, coronavirus will be well in hand, and none of us will be trippin'.
This article was originally published on