Tom Hanks's 'Greyhound' Is Officially Skipping Theaters for Apple TV+
The World War II epic was originally slated for a Father's Day release.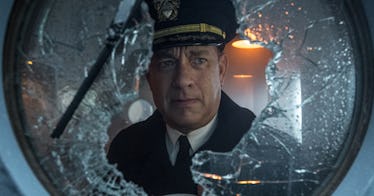 Columbia Pictures/Apple TV+
The theatrical release of Greyhound was set up to be the most dad-centric movie experience of all time. A World War II naval drama (check!) written by and starring America's dad, Tom Hanks (double-check!), scheduled to open on Father's Day weekend (triple-check!). But alas, after disrupting the health of Hanks himself, COVID-19 is disrupting this synergy, and Greyhound won't be coming to theaters after all.
The disease has closed movie theaters around the world, and a critical mass will likely still be closed by the time Father's Day rolls around, so Sony is taking the dramatic step of skipping a theatrical release and putting Greyhound exclusively on Apple TV+ which, yes, is still a thing.
The film stars Hanks as a career naval officer finally given command of the USS Keeling (code-name: Greyhound), a destroyer stationed in the North Atlantic in 1942. Without air cover, Hanks and company are left to battle German U-boats on their own. Heroics, we can only imagine, ensue.
Greyhound is the kind of movie that, like No Time to Die and Fast & Furious 9, sure seems like it was made to be seen on the big screen. Sony's decision to move it to a streaming service is thus a bit of a surprise.
Acquiring Greyhound is a coup for Apple TV+, which has struggled to capture a sizeable chunk of the streaming market in its six-plus months of existence. With HBO Max and Peacock debuting this year, things aren't about to get any less competitive.
Deadline reports that Apple paid somewhere in the neighborhood of $70 million for the rights to the film. It has yet to announce when Greyhound will be available to stream, so there's still hope that you and your dad can watch it Father's Day weekend even if you have to do so from the comfort of your own separate homes.
This article was originally published on