Tom Hanks Channels Mister Rogers During Coronavirus Recovery
America's dad seems to be doing just fine.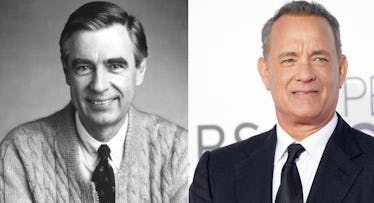 The most famous COVID-19 patient in the world posted another update yesterday, and he found the perfect, comforting quote for these trying times.
We're talking, of course, about Tom Hanks. The actor was shooting a movie in Australia when he and his wife, Rita Wilson, developed fatigue, body aches, and the symptoms of a cold. They both tested positive for the coronavirus and have been quarantined since.
Yesterday, Hanks provided an update in the form of local ephemera — Vegemite on toast, a stuffed koala, a stuffed kangaroo holding the Australian flag — along with some words of encouragement: "Thanks to the Helpers. Let's take care of ourselves and each other. Hanx."
That line is a reference to one of Fred Rogers's most well-known axioms, a story he told multiple times over the course of his life, including an interview he did with the Archive of American Television.
"You know my mother used to say a long time ago whenever there would be any really…catastrophe that was on in the movies or on the air she would say 'Always look for the helpers. There will always be helpers.'"
"Because if you look for the helpers you'll know that there's hope."
Hanks, of course, played Rogers in last year's A Beautiful Day in the Neighborhood, and it's encouraging to see him posting through his isolation, letting everyone know that America's dad is doing well under the circumstances.
The second half of his message — "Let's take care of ourselves and each other" — seems like a nod to the similarly positive phrase a very different television personality used to end his very different program.
Hanks announced he and his wife's diagnosis last Wednesday with a short message along with a photo of a single medical glove hanging out of a trash can. It's a quirk, along with signing everything "Hanx," that his social media followers will recognize instantly.
He shared another tweet thanking the medical staff caring for them that closed somewhat nonsensically with another quote — "Remember, despite all the current evens, there is no crying in baseball" — inspired by another one of his performances, in 1992's A League of Their Own.
If his isolation lasts for 14 days, which seems to be the standard in these cases, then Hanks has nine more days to rest, recover, and hopefully, for our sake, continue to tweet these pearls of optimism.
This article was originally published on