Tom Brady's Neighbor Reveals What the Patriot's Star Taught Her About Parenting
He's a good QB, but an even better dad.
by Amanda Tarlton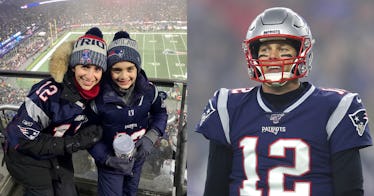 Tova Katz via Medium; GETTY
Throwing game-winning touchdowns isn't the only thing that Tom Brady is good at. The New England Patriots quarterback (and father of three) is also pretty good at being a dad, according to one of his neighbors who praised Brady in a recent blog post.
"You are so many things, Tom: star athlete, husband, dad, son and brother, record holder, six-time Super Bowl champion, four-time Super Bowl MVP, beloved son of New England," wrote Tova Katz, whose son played on Brookline's youth hockey team with Brady's son Benny. "But possibly what's most impressive is that you are simply a mensch: a decent, kind human being, a leader and role model for our children."
The post, titled "Our Kids Played Youth Sports Together…Here's What I Learned About Tom Brady," went on to describe some of what Katz admired most about Brady's parenting. Like how Brady would watch his son practice hockey on snowy, freezing nights and stay late to help the other parents clean up. Or how the 42-year-old made it a point to spend as much quality time with his kids as possible, even just hours before boarding a plane to the Super Bowl.
She also praises Brady for his kindness and decency in the public eye. "You are someone who never makes parents worry about having to turn the TV or radio volume down when sports news comes on fearing that our children may hear something inappropriate," Katz said, adding, "You keep your cool at press conferences, even after tough games, and always focus on how you can work harder and do better."
Katz concluded her post with a heartfelt thank you to Brady for being a role model for so many parents and kids alike. "Decades from now, when my grandkids ask me about what it was like to live through the era of the great Tom Brady, I'm not going to tell them about passing records and rings," she wrote. "I'm going to tell them about the dad in a big down coat and wool hat who stood next to me on a freezing night at Larz Anderson rink watching his kid discover the joy of sport — a joy that you, Tom, instill in so many of us grateful fans."
This article was originally published on