Watch Tom Brady Climb Stands To Hug Son After Clinching Super Bowl Game
Love him or hate him, the moment is heartwarming.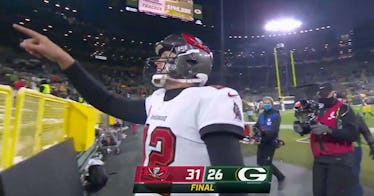 As a supportive dad, what was one of the first things that Tom Brady did after the Tampa Bay Buccaneers defeated the Green Bay Packers on Sunday? He went to go find and hug his son. Aww.
Whether you're a Tom Brady fan or not, he had a moment after the big game that clinched him and his team a Super Bowl appearance that most parents can relate to, and that is the desire to share victories — large career ones such as qualifying for the Super Bowl again, and also smaller, everyday triumphs — with your kids.
In a heartfelt moment captured by ESPN, Brady is shown leaving Lambeau Field and entering the stands, asking, "Can I say hi to my son?" before he climbs up and gives his oldest child, 13-year-old Jack, a big hug and tells him, "Love ya, kiddo." Super Bowl LIV, which will take place on Sunday, Feb. 7, will be Tom Brady's 10th time playing in a Super Bowl.
And if Tampa Bay beats Kansas City, Super Bowl LIV will be Brady's 7th Super Bowl win. It might not seem particularly unusual for someone like Tom Brady to hug his kid after a major win, due to the COVID-19 pandemic fewer people were allowed to watch the game in-person, so the hug may have felt even more special this time around. There were 9,000 people in attendance, which definitely feels like a lot during a pandemic, but in comparison, the stadium has the capacity to seat more than 81,000 people in total.
In addition to 13-year-old Jack, whom Tom Brady has with former partner Bridget Moynahan, Brady is also a parent to 11-year-old Benjamin and 8-year-old Vivian, whom he shares with wife Gisele Bündchen. Whether you're a Tom Brady or Tampa Bay fan or not, it's still nice to see this sweet moment of father-son bonding after a big game. It's good to be reminded that one of the biggest athletes on the planet is also a parent.
This article was originally published on