This Family Ditched Their Conventional Home for a Tiny House Compound
The teenagers have their own homes.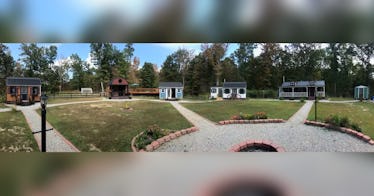 The Brinks tiny house village. Photo by Lennox Brinks
Keli and Ryan Brinks live in a tiny house in Kentucky. In and of itself, this isn't all that remarkable—there are thousands of tiny houses in the United States. What's different about the Brinkses is that their tiny house sits among five other tiny houses that they also built, two of which house their teenagers.
The family was living a standard American existence in a 2,200-square-foot house in Michigan when they decided they wanted to be more sustainable. Tiny house living, which rquires less energy for heating and cooling while producing less waste, was an obvious choice.
The Brinkses found a 21-acre piece of land in Kentucky and bought it for $57,000.
"We chose London, Kentucky, because of the lack of restrictions for housing and because the land was much cheaper than in areas of Tennessee that were closer to the family but more expensive and with restrictions," Keli told Insider in a profile of the family. The six tiny houses they built on the land ran them an additional $20,000.
The biggest house, at 280 square feet, belongs to mom and dad. Their son Brodey, 16, lives in a tiny wood cabin complete with a front porch while Lennox, 18, splits her time between college and her 160-square-foot house.
Another house has a washer and dryer, guest bedroom, and two bathrooms that are used by the kids, as their houses don't have bathrooms built-in.
"It's really not that bad," Lennox said. "It seems much worse than it is. I just put a coat on if it's cold or raining. I'll just bundle up and run over there."
There's also a 180-square-foot pool house with multiple seating areas—the family's de facto living rooms—and double doors that open onto the aboveground swimming pool which, at 594 square feet, is bigger than all of the houses.
And finally, a 64-square-foot house (that's really more of a shed) functions as a home office, as Keli and her husband both work from home sometimes.
Rounding out their compound is a barn, a chicken coop, and a goat, all of which contribute to the family's sustainable lifestyle.
"Family togetherness, fresh air, outdoor exercise, growing and cultivating food, and taking good care of animals so they can take good care of us is what we want them to live for and pass down to the next generations," Keli said.
2020 will be their sixth year in London, and the Brinkses are more than happy with their somewhat unconventional life there.
"This isn't a temporary thing," Lennox said. "This is a solid home for us."